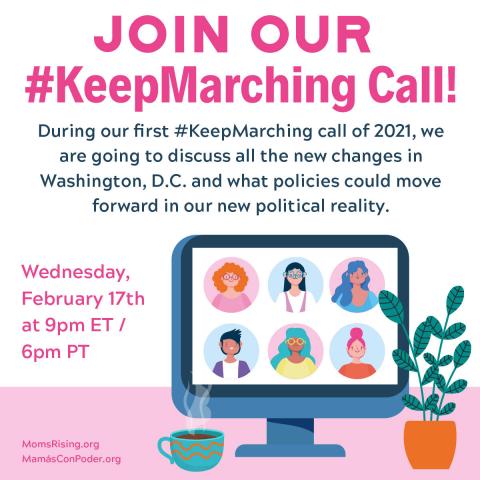 Top 5Actions for Friday, Feb. 12, 2021
This week we have a wide range of important actions for you to take as you start your weekend from urging Congress to support comprehensive legislation addressing the Black maternal health crisis, to signing up to hear about what's WINNABLE in Congress as we #KeepMarching for change, to ending the death penalty, and more. We are your one stop change shop!! We also have a great replay of a conversation between our campaign staff and Representative Suzan DelBene for you to watch. You can see the actions important to moms, dads, caregivers, and grown ups across the country below.
-- Sue Anne, Kristin, Elyssa, Gloria, Joy, Beatriz, Tina, Jordan, and the rest of the MomsRising / MamásConPoder Team
Urge Congress to support comprehensive legislation addressing the Black maternal health crisis!
The state of maternal health is in crisis, especially for Black women and Native families and communities. Right now, the United States is the most dangerous place to give birth in the developed world, with major racial disparities where Black women lose their lives at 3 to 4 times the rate of white women due to maternity-related causes, independent of age, economic background, or education, a fact that has gone unchanged for several decades. If we're going to save our moms, we need everyone to be a part of the solution. Every person giving birth deserves a safe and healthy experience and should have the opportunity to watch their child grow up and thrive. Every child should have a chance to have their mother by their side.
Tell Congress, support the most comprehensive legislative effort yet to address the Black maternal health crisis in America!
#KeepMarching Meeting: What's WINNABLE in the new Congress?
A new President! A new Administration! And a new Congress! There are so many new opportunities to create real and lasting change for our families, communities, and economy in 2021. And we are more than ready to win. But what's actually winnable? From universal childcare and reopening schools to raising the minimum wage to comprehensive immigration reform, to finally (FINALLY!) winning paid leave for all, there are so many exciting opportunities for MomsRising members to engage in important and long-lasting advocacy that will lift up all of our families and start to pull us out of the COVID economy.
Join MomsRising and U.S. Representative Katie Porter on Wednesday, February 17th at 9pmET / 6pmPT for this important conversation.
Tell President Biden to take Executive Action to Abolish the Federal Death Penalty
The criminal justice system is fraught with inequities including clear evidence that capital punishment in the United States is disproportionally applied to Black people and people of color. We cannot allow this to continue.
The death penalty is as cruel as it is ineffective in deterring crime. Revenge is not justice and murder for murder does not provide healing to families or society as a whole.
The time is NOW to abolish the federal death penalty -- Sign on!
A Conversation with Representative Suzan DelBene
Check out this great conversation MomsRising's National Director on Budget and Tax Elyssa Schmier had with Representative Suzan DelBene on Facebook Live this week! They talked about ending childhood poverty, getting direct monthly checks to families, and the Child Tax Credit.
Click here to view the video replay on Facbeook.
Get the latest actions with our mobile alerts
As we move through 2021, and especially as we work with the new Congress in passing legislation MomsRising's Mandate for America, the easiest way for us to connect you with your Senators and Representatives is via mobile messaging.
Please sign up by texting MOMS to 747464 and you'll receive the latest actions on your phone.