Top 5 Green Halloween Party Tips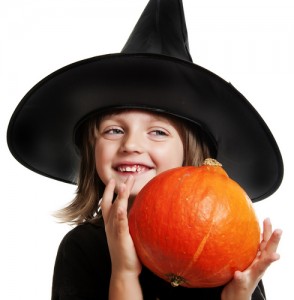 Halloween is right around the corner! If you're hosting a Halloween party or event this weekend, try
these easy tips to reduce waste, limit toxic chemicals, and make your jack-o-lantern even more festive.
Rethink disposables: If you can lose the disposable silverware and plates, that's great. If you can't, what about losing one of them? Keep your disposable plates, but use regular silverware. Use the restaurant trick of keeping a bowl of hot water by the sink and dump used silverware in the bowl so it's rinsed and ready for the dishwasher. Or add dishsoap to the water and give your soapy silverware a quick scrub and rinse when the party is over. Try bamboo or unbleached recycled paper products for dishes and napkins. Remember to make recycling obvious by clearly marking your recycling bin.
Food coloring: Are your punches, snacks, or drinks getting an infusion of Halloween food coloring? Before you mix up that orange frosting or blood-red punch, consider making your own natural food dye instead. Food dye has been linked to frightening health issues like cancer and hyperactivity in children. You can make your own dyes from fruits, vegetables, and more. Try one of these recipes for eight different DIY organic food dyes on Care2.
Lose the shoes: Lower your toxic chemical exposures by asking your guests to leave their shoes at the door. Lead-contaminated soil from the outside creates the majority of lead dust inside our homes. Leaving your shoes at the door can cut your lead dust levels by 60 percent, and also reduce your exposure to pesticides, dust mites, and more. Create a designated space for shoes by the door and make it obvious to your guests by putting up a sign, placing a mat in the space, or putting a few pairs of your own shoes there.
Less packaging: Look for ways to reduce the amount of plastic and packaging you purchase for your party. Save money, and avoid packaging, by buying bulk snacks, sweets, and ingredients. Steer clear of overly packaged convenience produce, like prewashed lettuce or pre-wrapped vegetables. Look for loose produce at your supermarket, or use this tool to find a local farmer's market. For large gatherings, use bulk candy instead of bowls of individually wrapped fun sized sweets.
Use reusable decorations: If you buy Halloween decorations for your party, try to buy ones that you can reuse every year. Flimsy plastic decorations are unlikely to last more than a Halloween or two and create more plastic waste. Plastic decorations can also be home to toxic chemicals like BPA and PVC. Look for items made out of solid, reusable materials, like fabrics or wood.  You could also create a new holiday tradition by making your own reusable banners and signs that you can decorate with every year. Click here for ideas on recycled and reusable Halloween decor.
Going the jack-o-lantern route for your Halloween party decorations? Be festive and remind your friends to get out and vote by trying one of these MomsRising pumpkin carving templates! Click the links below to download yours today:
***