Top 4 Green Halloween Decorations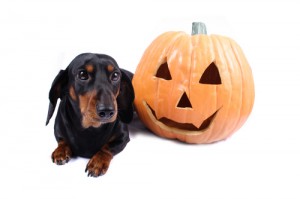 Jack-o-lanterns! Spider webs! Spooky witches! My neighborhood has already started the Halloween festivities: Our block is bordering on a haunted house these days. There are so many great ways to get in the Halloween spirit through decorating. It's also a great opportunity to get creative and make some green choices by trying out fun recycled crafts, using every part of the pumpkin, and looking for sustainable decorations that can become a Halloween tradition. Get your home ready for Halloween with these top 5 green Halloween decoration tips!
1. Make the Most Out of Your Pumpkin
Here are a few tips from Audobon Magazine on how to choose a greener pumpkin, and how to keep it fresh:
If you can, buy a pumpkin from your local farmers market. (Not sure where to find a farmers market? Try this search tool from the USDA, or this interactive map from Local Harvest.)
Buy your pumpkin as close to Halloween as possible.
Prevent spoiling by keeping your pumpkin cool. You can store it outside, or place it next to a window.
Don't forget to save the seeds and innards when you hollow out your jack-o-lantern! You can create a delicious treat by baking and seasoning them. Try
this basic recipe
, or share your recipes and seasoning tips in the comments! And what about those stringy innards surrounding the seeds? You can transform those into a yummy pumpkin stock.
Earth 911 shows you how to make a pumpkin stock
, and has a recipe for pumpkin pasta sauce.
2. Recycled Crafts: Get creative! Raid the recycling bin and test out a few of these Halloween themed crafts, which can all double as cute and spooky holiday decorations.
3. Reusable Decorations: If you buy Halloween decorations, try to buy ones that you can reuse every year. Flimsy plastic decorations are unlikely to last more than a Halloween or two and create more plastic waste. Plastic decorations can also be home to toxic chemicals like BPA and PVC. Look for items made out of solid, reusable materials, like fabrics or wood.  You could also create a new holiday tradition by making your own reusable banners and signs that you can decorate with every year.
4. Trick or Treat Bags: Skip the plastic trick or treat bags and go for a reusable fabric bag instead. You can use a basic one you already have, or go for the old-school traditional pillow case full of candy. Get in the Halloween spirit by decorating bags with paint, markers, and more. For tips on nontoxic craft supplies, click here. 
Share your green Halloween tips and ideas in the comments, or on Twitter! We will be tweeting about green Halloween tips @MomsRising at 11:00PT/2:00ET TODAY (Tuesday, 10/16/2012). Use the hashtag #EcoTipTue to join the conversation!
~~Ready to rise? Join MomsRising now!