#TipsTuesday: 4 Nontoxic Carpet Cleaning Tips
Between kids and pets, it's easy for the carpet in your home to become stain-central. Swap toxic carpet cleaners for handy nontoxic ingredients that are probably already in your pantry, and try simple steps to reduce stains and smells in your carpeting, the nontoxic way!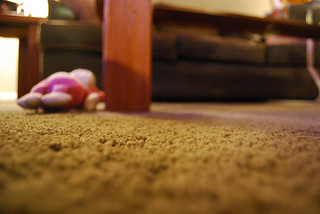 Photo credit: Photo by Flickr user Michael Kappel
Odor Control: Sprinkle baking soda on your carpet and let it set for 30 minutes to an hour before vacuuming. Baking soda absorbs odors and moisture; to further improve odor, National Geographic Green Living recommends trying a few drops of lavender oil or ground cloves to the baking soda to improve indoor odor.
Stain removal: 
Vacuum: Vacuuming regularly is one of the quickest, easiest ways to keep your carpet clean. If, like me, you often forget to vacuum, try adding a reminder to your calendar to make sure you stay up to date (Aim for once or twice a week. Not possible? Don't worry about it! Do it as often as you can based on your schedule). You can also do double duty and protect your carpet while cleaning up your indoor air by using a HEPA filter vacuum. HEPA filters trap fine particles of pollen, dust, and other allergens.


Lose the shoes: Lower your toxic chemical exposures, and keep your carpets cleaner, by leaving your shoes at the door. Lead-contaminated soil from the outside creates the majority of lead dust inside our homes. Leaving your shoes at the door can cut your lead dust levels by 60 percent, and also reduce your exposure to pesticides, dust mites, and more. To maintain carpets, wear socks or slippers instead of going barefoot indoors: Healthy Child, Healthy World says that natural skin oils can release from bare feet and attract dirt on the carpet.
Additional Resources:
Fired up? Join MomsRising today!