Tips Tuesday: Makeover your lunch box staples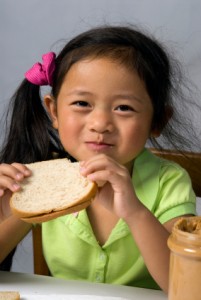 Picture it: Perfect stacks of crackers and sliced meats, portioned and packaged in plastic. Syrupy fruits in single serve cans. Plastic thermoses full of warm canned soup. And all of  these goodies gathered into a shimmering, plastic lunch box.
These are the bright back to school images of lunch time that show up on our TV screens and in glossy, smiling-kid filled ads in magazines. But with toxic chemicals lurking in plastic lunch boxes and food packaging, and pesky BPA popping up in canned fruits and soups, this lunch time image needs a non-toxic makeover. Keep the kids smiling, and keep them safe from toxic chemicals, with these top 5 tips to makeover your lunch box staples:
Fruits and veggies: Make sure you always thoroughly wash your produce before packing it up for lunch. Rub fruits and veggies for 30 to 60 seconds under warm running water. Wash inedible peels; even though you discard the peel, cutting into the fruit or peeling the fruit can transfer chemicals into the fruits flesh through your knife. For edible peels, peeling non-organic fruit's and vegetables is an easy way to avoid the chemicals that are absorbed into the peel.
Tools of the trade: Skip plastic lunch boxes, which are often made out of PVC, or coated with PVC on the inside. Instead, choose a cloth lunch bag. You can even use one of these cute tutorials to make your own DIY lunch bag. If you do choose a plastic lunch box, avoid ones that have a "WARNING: This product contains chemicals known to the State of California to cause cancer, and birth defects or other reproductive harm"  label. This particular warning means that the product is more likely to contain lead.
Replace plastic water bottles with a stainless steel bottle or an aluminum bottle with a non-toxic lining. Inhabitots has a top five list of their favorite 100% BPA-free water bottles for kids. Avoid plastic packaging on your food by packing up sandwiches and snacks in stainless steel or glass containers. You can also use PVC-free butcher paper, waxed paper, parchment paper, and low density polyethylene (LDPE) or cellulose bags.
Buy in bulk: Stock up on healthy staples and skip unnecessary packaging by visiting the bulk foods section at the grocery store. Make your own single serving snacks in reusable glass or stainless steel containers by packaging cereals, crackers, or dried fruits. Turn lunch-making into a kid friendly activity by letting your child mix up their own trail mix out of different healthy bulk goods. You can also save money, and reduce packaging, on breakfast by buying bulk oatmeal, cold cereals, or hot cereals. 
Out of the can: Many canned classics have easy, homemade substitutes. Soak chickpeas and beans overnight or use this quick soak method from Bon Appetit. Add beans and/or chickpeas to easy homemade soups made out of boxed or homemade broth, or use them to make your own hummus or bean dip. A favorite snack in my house growing up was chickpeas served on their own with a bit of salt. Replace canned fruit with fresh or frozen fruit. Swap canned soda out of your lunchbox for water, or make homemade fruit sodas out of a one to one ration of juice and seltzer water, and pack it in a reusable bottle.
Edit (and save!) with easy DIYs: Studies have found chemicals can leach from PVC food wrap into food. The best way to avoid chemicals in plastic food packaging is to avoid plastic food packaging all together. This isn't always easy, and with the kid lunch land of plastic, individually wrapped servings, it can seem down right impossible. But if you edit some packaging out of your lunch staples, you can avoid chemicals and even save money in the process. Here are a few cheap and easy DIYs for lunchtime staples to get you started:
This blog is a part of the Healthy Child, Healthy World blog network.