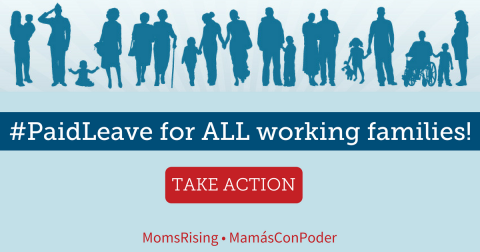 Time to Make Paid Leave a Reality for Everyone
Details matter!
Moms know this. Dads know this. Caregivers know this. Details are the difference between a giggling toddler pouring water on a nice white carpet with glee; and that same giggling toddler pouring their grape juice on the white carpet. Ouch. Details are also the difference between your teenager asking if she can have one friend over for dinner; and that friend turning into her whole basketball team.
The details also matter when we're talking about paid family and medical leave. We need a national paid family & medical leave policy that reflects the many dimensions of our families and lives. Policies that are *only* for moms don't cut it. Policies only for dads don't make sense either. We need to remind our legislators that details matter when it comes to paid leave, and these policies must cover ALL caregivers. 
---> SIGN HERE: Let's make sure Congress knows that we want to see movement on a comprehensive paid leave bill that benefits ALL working families!
It's time to get this policy moving, so let's make sure they move the right policy forward with the right details! 82% of voters believe it is important for Congress and the new administration to consider new laws that would create a paid family and medical leave insurance program.[1]
One key detail is exactly who is covered in the policy. We've already seen this detail go wrong. For example: Unfortunately, when President Trump talked about the need for leave on the campaign trail, his proposal was for mommies only (and potentially only married birth moms and not single moms and/or moms who were adopting or fostering children) and for only 6 weeks.
This is NOT okay. Instead of breaking down barriers for women, Trump's campaign proposal that covered only moms raises barriers for women. Why? Being a mom is already a greater predictor of wage and hiring discrimination than being a woman -- and having a policy that wrongly assumes moms are the ONLY caregivers in families increases that discrimination against moms and hurts our pocketbooks.
Did someone say pocketbook? Right now more than 80% of women become moms and the wage gaps that moms face are extreme. Women without children make about 80 cents to a man's dollar, moms make just 71 cents, and moms of color earn as low as 46 cents to a White man's dollar. This pay gap hurts our economy. Since women make the majority of consumer purchasing decisions, studies show that if there was pay parity the GDP would go up by 3% and child poverty would be cut in half.[2]
So, suffice to say that a "some mommies only" approach that increases discrimination specifically against moms by the very nature of the assumptions in the policy is a bad approach. We need a paid family leave policy that covers moms, dads, and all primary family caregivers! That's the path to lifting families and our economy.
Details like this matter! And they have lasting impact for far longer than if water or grape juice spills on a white carpet.
------
What we need is a national paid family and medical leave policy that pays attention to the details by checking ALL the boxes: It needs to be ACCESSIBLE to all workers, offer a MEANINGFUL length of leave, be AFFORDABLE for workers, employers and the government, be INCLUSIVE in defining family, and offer job PROTECTION.
Let's make sure Congress knows that we want to see movement on a comprehensive paid leave bill leave that benefits ALL workers!
Can you believe that in the United States only 14% of workers--and only 5% of low-wage workers--have access to paid leave through their employers?[2]
MomsRising member Rena, a single mother from New York, shares what having access to paid leave meant to her when her mother was battling cancer. "A leave of absence allowed me to keep my job during a break where I could care for my mother, my baby (and myself a little bit)."
Our nation's families need a robust detail-driven paid family leave policy that:
Is accessible to ALL working people
Offers meaningful length of leave – at least 12 weeks and covers the full range of personal medical and family caregiver needs established in the Family and Medical Leave Act
Is affordable and cost-effective for workers, employers and the government
Is inclusive when it comes to defining "family"; and
Allows working people to take leave without facing adverse employment consequences.
Tell Congress that we want a comprehensive paid leave bill leave that benefits ALL workers!
It is time to make paid leave a reality for everyone. Whether it's to care for a newborn you swear already smiles, a mom who is ill, or a spouse battling cancer, being there for family is what matters. You shouldn't have to give up a paycheck, or risk losing your job,to do it.
Do you have an experience with (or without) paid family leave to care for a newborn or a seriously ill family member?  Please share your story here. 
[1] "Key Findings: 2016 Election Eve/Election Night Survey", National Partnership 
[2] "Pay Equity and Discrimination" Institute for Women's Policy Research
[3] "The Family and Medical Leave Insurance Act," National Partnership