Take Action!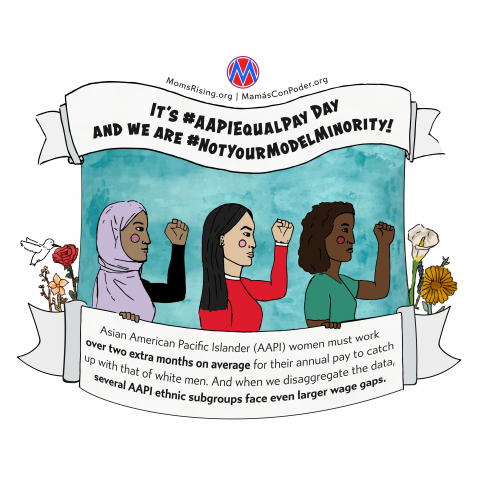 This is huge. Just last week, the Paycheck Fairness Act was passed by the U.S. House Committee on Education and Labor! Next, the bill is headed to a floor vote, where it could pass the House of Representatives. And it can't pass a moment too soon!
Why not a moment too soon? Because TODAY is a giant reminder that women still face a punitive wage gap. Today is the first Equal Pay Day of the year -- Asian American Pacific Islander (AAPI) women's equal pay day, marking how far into 2019 that AAPI women have to work on average to make what white men made in 2018 alone.
Over two months of unpaid work? No thanks.
>>> Call on your members of Congress to support the Paycheck Fairness Act this AAPI Equal Pay Day!
On average, AAPI women make just 85 cents for every dollar paid to white men, but we know this singular number doesn't tell the whole story.
AAPIs are 50+ different ethnic groups, speaking 100+ language and dialects. The wage gap shows up differently for each of these communities, with some of the biggest income disparities hidden within this racial grouping. For example, Hmong and Burmese women in the U.S. earn on average only 57 and 50 cents to the white male dollar, respectively. Many AAPI mothers experience increased wage hits on top of this.
*** Enough is enough! Let's help close the wage gap with the Paycheck Fairness Act!
The Paycheck Fairness Act is a smart policy that would close loopholes in the Equal Pay Act and:
Protect against retaliation for discussing salaries with colleagues;
Prohibit employers from screening job applicants based on their salary history or requiring salary history during the interview and hiring process;
Require employers to prove that pay disparities exist for legitimate, job-related reasons;
Provide plaintiffs who file sex-based wage discrimination claims under the Equal Pay Act with the same remedies available to plaintiffs who file race- or ethnicity-based wage discrimination claims under the Civil Rights Act; and
Create a negotiation skills training program for women and girls.
Tell your members of Congress: support the Paycheck Fairness Act today!
Along with the Paycheck Fairness Act, solutions like paid family and medical leave and paid sick days help close the insidious wage gap.
On average, AAPI women lose out on over $9,000 each year because of unequal pay. That's $9,000 that could be spent on groceries, childcare, healthcare, and education.
The wage gap is real and it has very real impacts on working families.
MomsRising member, Laura, shared the following:
"While wage discrimination based on gender is often difficult to prove, I was in a unique position to find out. The person who was earning more than me for doing the same job was my partner and now husband! We met nine years ago as graduate students at Columbia. We graduated together with the EXACT same degree. Two years later when we became employed by the same agency for the EXACT same position as a school-based clinician, just at different school sites, yet we were dumbfounded by our salary offers.

As his first job within the field he was offered $41,000 a year while I was offered only $35,700 a year, a whopping 13 percent less! We both naturally believed that I would actually earn more than him for several reasons: Prior to graduate school, I worked in the field for five years, had outstanding references and held a California Pupil Personnel Services Credential, all of which substantially "beefed" up my resume in comparison to my husband's. And yet, my salary offer was more than $5,000 less. The only reasons we could possibly think of were two other "straightforward" differences: I am female and Chinese American. My husband? White and male."
>>> Raise your voice now for equal pay! Urge your members of Congress to support the Paycheck Fairness Act.