We Are MomsRising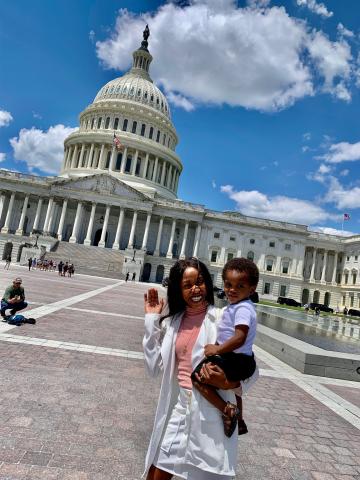 This Child Care Champion has LEVELED UP!
"Children are our future, so let's make sure they have what they need to be successful. We can make the expanded Child Tax Credit permanently available for all families. We can address the child care crisis. We can guarantee paid family and medical leave for all. In short, we can build the care infrastructure families need to thrive."
Today's #WeAreMomsRising story comes from Jacqueline Sealey, mom of three from Niagara Falls, NY, and a graduate of our very first MomsRising RISERS Parent Fellowship. Jacqueline was one of 20 RISERS from 15 states learning leadership skills for early childhood issues such as child care, maternal health and mental health, and other prenatal-to-three issues.
RISERS are mothers and caregivers who are eager and looking for opportunities to use their experiences to be advocates for change. A big part of the work with our fellows is to break down the barriers of imposter syndrome; to encourage and build their confidence and help them get out of their comfort zone; that they know that their stories are important and that they matter– and most importantly, that they can influence policymakers and affect change.
Jacqueline was identified as a potential fellow when she submitted a video through the MomsRising Soapboxx video platform, sharing how important childcare is to her entire family and asking Congress to make high-quality childcare a reality.
Going through the fellowship, Jackie gained confidence, honed her storytelling skills, strengthened her civic engagement skills, learned about how to work with the media, and engage in a variety of advocacy opportunities.
As the fellowship progressed, Jackie's advocacy skills shined: she wrote a letter to the editor in her local paper about the importance of childcare investments; she attended a virtual meeting with Sen. Schumer's office about child care; and finally, she and her son Jacob attended a child care rally on Capitol Hill with Senators Patty Murray and Tim Kaine where Jackie told her story.
Our incredible mom from NY Jackie speaks on living paycheck to paycheck & the need for families to have high-quality, affordable child care at Capitol Hill: "I'm counting on Congress to not leave families behind and to invest in child care so we all can thrive." #SolveChildCare pic.twitter.com/Y7btuBQcDK

— MomsRising (@MomsRising) June 9, 2022
Jackie shared that her advocacy with MomsRising was her first time engaging in advocacy. She has expressed how grateful she is for the way MomsRising has helped her learn about the issues and prepare for meetings, as well as being able to meet with other mom advocates from across the country.
"I love you ladies [MomsRising]. If it wasn't for y'all, our stories [moms] would not be heard. If you would've told me a few years ago that I would be doing this, I would've told that person that they're crazy. After speaking at the conference, I feel accomplished."
Learn more about Jackie's amazing inaugural class in this blog post. 
---
#WeAreMomsRising uses personal stories to showcase what it means to be a mom, a woman, and a family member in America. 
Personal experiences are powerful and can make a HUGE difference in helping our communities and elected leaders understand how public policies impact families. Share YOUR story here.