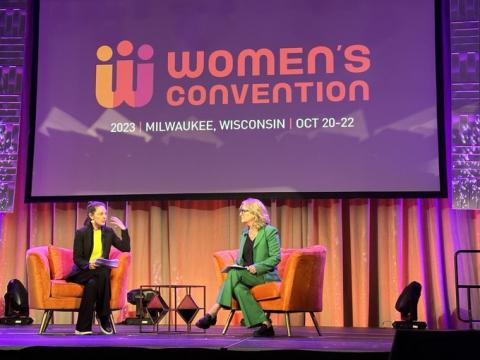 The Women's Convention 2023 in Milwaukee, Wisconsin
What a powerful three days of convening with other women, moms, and allies at the Women's Convention 2023 in Milwaukee, Wisconsin! Milwaukee is set to be a vital battleground in the 2024 presidential election, and our on-the-ground presence can be a game-changer. Together, we can shape the future and demonstrate that unity, empathy, and progress are the forces that can bridge divides and bring lasting change.
Our Kristin Rowe-Finkbeiner, Gloria Pan, and Monifa Bandele. 
We value our freedoms and know the truth in what the great Audre Lorde said: "There is no such thing as a single-issue struggle because we do not live single-issue lives." At our first session, we discussed the freedom to be there for our children and families when we're needed most, to choose what's best for our families and our own bodies, to send our kids to schools where every child belongs and can thrive, to be free from gun violence, to have safe births when we choose, and to be able to earn equal pay and a living wage. It's well past time for policies that allow our children to have the best start in life, parents and care workers to thrive, and our elders the best possible golden years. In this session, we talk about building a movement for change, growing political and voting power, and the policies we need to advance to make those changes so every family can thrive.
MomsRising's booth in Social Justice City
MomsRising hosted a booth to spread the word about our Beacons of Hope leadership development program that will help moms build power in their own communities and across the country in 2024! Learn more here and hear what our 2023 Beacons had to say.
The Women's Convention is not just an event; it's a rallying point for women and allies who share common values, experiences, and a vision for a more inclusive and equitable world. MomsRising also convened a panel Why Care Infrastructure Wins (And The Fights Ahead) Impact Everyone! with American Association of People with Disabilities, Care in Action, Caring Across Generations, and the National Women's Law Center.
The future looks bright and we're honored to be doing this work with you all!  We are #StillTheResistance and we will win!