The Short Game: Taking the "Work" out of "Working Together"
Two nights ago, I hosted a gathering for my new ebook, Lean On and Lead, Mothering and Work in the 21st Century Economy.  The event was an opportunity to experience the interactive nature of my project as well as to meet Hawaii's Congresswoman Colleen Hanabusa, a candidate for US Senate, who is one of the interviews in my book.
I had specifically invited mothers and daughters, and about a dozen found time to come, during the week before Christmas.  They ranged in age from 11 to 72 years old. And though they live in the same community, most of the women were not acquainted. Even I, the common link, have not had time to connect with many of them in the last fifteen years.  And this is a shame -- because we had a really good time.  A religion and Hawaiian Studies teacher, who brought her young daughter to the gathering, expressed the energy in the room:
"I love being in a room with so many women!" 
The official part of the event started when I showed the group Lean On and Lead, with its interactive data, audio, and video widgets complementing 24 interviews with women and parents.  We briefly talked about some of the issues covered in the ebook:  gender inequity in the workplace, paid family leave, subsidized childcare, the importance of extended family, and the often-ignored fact that the US economy needs women's skills and talents in order to thrive.  But these discussions only verified what everyone in the room already knew.  The real nourishment of the psyche happened when we spoke to each other about our own kids, our jobs that mostly involved helping other people's kids, family medical issues, and the mundane day-to-day.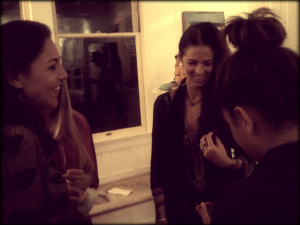 So when the Congresswoman arrived, it was clear that the women were not very interested in a simple list of where she stood on specific issues.  What they wanted instead was to connect with her in context -- because the real satisfaction of the evening came from the in-depth conversations.
Colleen began by talking about gender and the climate for women in Washington DC.  She talked about the physical realities of women's issues.  I was reminded of Caitlin Moran's definition of feminism in How to be a Woman:  "Do you have a vagina?  Do you want to be in charge of it?  If you said 'yes' to both, then congratulations! You're a feminist."
Of course, feminism doesn't mean that in politics, only women can be supportive of women's issues.  But what it does mean is that as women, we all viscerally know the feeling of powerlessness -- even over our own bodies.  And we know the feelings of being "less than," "outside of," and "outnumbered."  At the same time, it is exactly that common experience that gives us strength, motivation, and the confidence to make change – for ourselves, our daughters, and our sons.
That is why I believe that gender parity in politics will affect positive change for women and families. Liberal and conservative women can be allies when it comes to supporting women's and families' issues – because of our shared experience.  And we've already seen women in the Senate working together despite party differences.  So even when they don't call themselves feminists, per Ms. Moran's definition, most women often really are.
Right now, we're at around 20% for women on The Hill.  And even though things are moving steadily and hopefully irrevocably in the right direction, with a divided Congress that gets little done, we're going to need to commit to the long game to pass paid family leave, mandatory sick leave and flex-time policies, and adequately subsidized child care.
But I was reminded at the event that there is also a short game – and it might be much more satisfying.  Though all the women who gathered two nights ago are very active in their communities, few are active in politics, particularly at a local level.  And that's an odd thing as Hawaii is a progressive small state, and compared to other bigger or more conservative states, a few people can make a positive difference relatively easily here.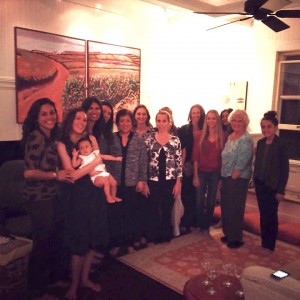 And this brings me to the end of the evening.  After talking about Lean on and Lead and meeting Colleen and each other, the women felt supportive, supported, and motivated.  One of the daughters asked me for advice about starting a substance abuse residence for teenagers.  She had just met the Congresswoman and we were in a room full of women who knew how to make things happen.  Furthermore, Lean On and Lead, which includes interviews with a range of entrepreneurial women, parents, and politicians, is designed through its interactive platform to serve as a vehicle for concrete innovative collaborations.  I gave this young twenty-year-old advice about connecting with people in the community and specific individuals interviewed in the ebook.  And for the last 48 hours, I've been strategizing about how she, with many "someones" to lean on, can affect change.
Earlier in the week, I had written a blog post about women gathering together to solve "half the world's problems," and about how I wanted to figure out how to use Lean On and Lead to make that happen.  I'm crossing my fingers that this event was the first step.