Take Action!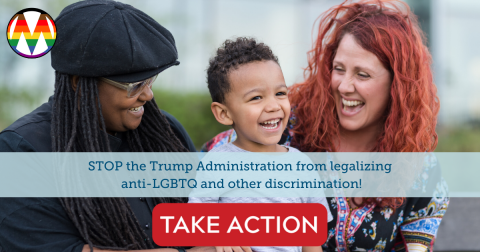 Tell Trump Administration: DO NOT use taxpayer dollars for hateful discrimination!
At any given time, there are about 443,000 children and youth in foster care in the United States. When my wife and I are ready to start a family, we plan to become foster parents and eventually, adoptive parents, to provide a safe, loving home for children that need one either temporarily or permanently.
But the Trump Administration has other plans for us.
Among other unacceptable proposals, they want to make it legal for foster care and adoption agencies that receive federal Health and Human Services (HHS) grants to discriminate against LGBTQ+ people and refuse to place foster children with us.
This is personal. The proposed rule would legalize discrimination against a broad swath of people and communities, including women, religious minorities, and nonreligious people, in addition to LGBTQ+ youth and families. This is just plain wrong.
Quick Signature! >>> Join me in opposing the Trump Administration's proposed rule that would create a license to discriminate using taxpayer dollars!
It's critical that we all take a minute to reject this proposed rule because it's just that – a proposal – that we can defeat if we all urge HHS to renounce it.
Charity, a MomsRising member and adoptive parent in Illinois, shares exactly why we must speak out against this proposed rule:
"I am a mother, a daughter, and a fighter. I am also a lesbian. Every identity I have only makes me a better person and an even greater mother to my three adopted children. When I was 25, I adopted my first child. He has rocked and changed my world in unimaginable ways. He has become a giant and I can only look at him and see his ability to change this world. He has an amazing heart that understands the need to include, love and build all people. I am who I am because of every identity I carry and he has become who he is because of the love he's been raised in."
Under the Obama Administration, a strong non-discrimination rule for grantees of HHS was finalized. Now, the Trump Administration is attempting to undo that good rule and allow HHS programs and services to discriminate on the bases of religion, sex, gender identity, and sexual orientation.
The proposed rule will affect nearly all HHS grants and contracts—worth over $500 billion—including foster care, Head Start, HIV prevention, community health care centers, energy assistance, and much more.
TAKE ACTION: Add your name to our letter instructing the U.S. Department of Health and Human Services to abandon this discriminatory proposed rule!
If we don't act collectively to speak out against this shameful Trump Administration proposal, this is a snapshot of discrimination that could become legal:
People in need of medical care could be turned away from a federally funded community health center because they are LGBTQ+.
An agency providing foster care services could keep a child in a group home rather than place them with qualified Jewish, Muslim or LGBTQ foster parents.
Children of LGBTQ+ parents could be denied enrollment in Head Start.
Federally funded after-school programs could refuse to serve the children of single mothers or LGBTQ+ parents—and could also exclude transgender youth.
Children in foster care who are LGBTQ+ could be denied needed healthcare and support services when more than one in five foster youth identify as LGBTQ+ (over two times their representation in the general youth population).
A senior services center could continue to receive government funding while ignoring the sexual harassment of women it serves.
Community meal programs designed to support older adults could refuse to deliver food to older people who are LGBTQ+.
*** TAKE A MINUTE to reject this unconscionable proposed rule that would use your taxpayer dollars to discriminate and hurt some of the most vulnerable among us.
Antonia, a MomsRising member and LGBTQ+ foster parent, shares the following:
"I have been involved in the foster care system as an advocate, social worker, and foster parent. We open our doors to children in need. I cannot understand why this proposed rule would seek to slam the door in the faces of children in need of loving homes like ours."
Can you take a moment to back up Antonia now? Tell the U.S. Department of Health and Human Services to abandon the Trump Administration's proposed rule that would legalize discrimination and harm children in need!
Together, we're a powerful force for women, children and families.