Take Action!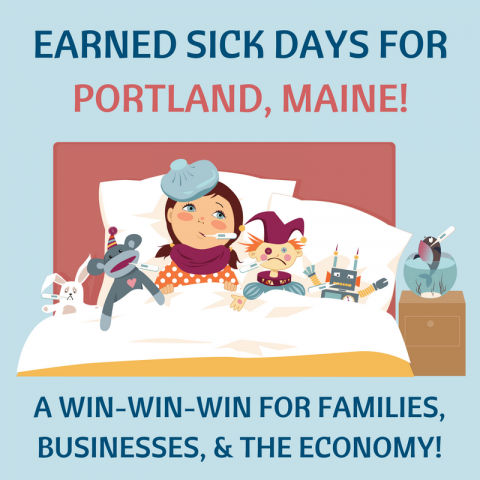 Tell the Portland City Council: Earned Sick Days are a WIN-WIN-WIN!
Exciting things are afoot in Portland, ME!
Just this Monday, an earned paid sick days proposal was introduced to the City Council that would enable workers to earn up to six paid sick days each year. (Time for a major happy dance!)
Earned sick days are a win-win-win for working families, businesses, and the Portland economy.
→ Turbo-boost this important progress by adding your name to the list of earned sick days supporters in Portland and telling your City Councilors why paid sick days are important to you and your family! 
Raising your voice for earned sick days in Portland will make all the difference for the city's working families and our economic security. Right now, an estimated 20,000 workers in Portland can't earn a single paid sick day to care for themselves, their child, or another loved one when illness strikes. That's not okay because for an average family without paid sick days, just 3.5 days of missed work due to a cold or the flu is the equivalent to an entire month of groceries. [1]
Have you ever had to go to work sick — or send your sick child to school because you weren't able to earn paid sick days on the job and couldn't afford to miss a day's pay? You're not alone.
→ Join Momsrising members across Portland in sharing your experience with having — or not having — paid sick days and what that has meant for your family's economic security and health.
The more of us who share our stories with the Portland City Council, the greater the mounting urgency for them to pass this policy will be.
Victoria, a Portland MomsRising Member, shared the following:
"If my children get sick, I have to drop them off at daycare anyway. I cannot miss work without the threat of losing my job. I need to work to pay my bills. We already rely on food stamps to keep food on the table."
Backup Victoria and her kiddos by telling your Councilor that you support the paid sick days policy recently introduced to the Portland City Council!
The consequences of not having paid sick days are particularly devastating for low-income workers, immigrants, the transgender community, and people of color, who are far less likely to have the financial cushion for unpaid sick time — or health issues exacerbated by not being able to seek medical attention in a timely manner.
We want Portland to be a city where no parent has to make the impossible choice between staying home with a sick child — and losing a day's pay or even their job — or sending their little one to school sick so that they can keep food on the table and make ends meet.
Tell the Portland City Council that you support earned sick time because it's a win-win-win for working families, businesses, and the city economy when hardworking Portlanders have the guarantee of this basic workplace protection!
After all, paid sick days reduce turnover costs, boost workplace morale, and help stop the spread of illness among workers. [2]
Together, we're a powerful force for Portland women and families.
– Sara and the whole MomsRising.org team
[1, 2] The need for paid sick days - The Economic Policy Institute