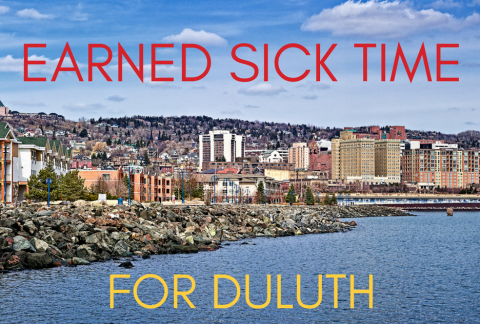 Tell the Duluth City Council: Support Earned Sick and Safe Time!
Exciting things are afoot in Duluth. Spoiler alert: it's something that's a win-win-win for working families, businesses, and the Duluth economy.
>>> I'm talking about earned sick and safe time for Duluth! <<<
Last summer, the Duluth City Council established a task force to study the creation of an earned sick time ordinance. Any day now, the task force will make their final recommendation to the City Council on whether or not to introduce an ordinance guaranteeing earned paid sick days.
TAKE ACTION: Make sure the Duluth City Council hears from you too! Tell them that you support earned sick time and urge them to do so as well.
Making sure your voice is heard on earned sick time in Duluth will make all the difference for the city's working families and our economic security. Right now, 46% of workers in Duluth can't earn a single paid sick day to care for themselves, their child, or another loved one when illness strikes. That's not okay because for an average family without paid sick days, just 3.5 days of missed work due to a cold or the flu is the equivalent of an entire month of groceries. [1]
Have you ever had to go to work sick — or send your sick child to school because you weren't able to earn paid sick days on the job and couldn't afford to miss a day's pay? You're not alone.
→ Tell the Duluth City Council that you're counting on them to support earned sick time!
The more of us who contact our City Councilors, the greater the mounting urgency for them to support and pass this policy will be.
The consequences of not having paid sick days are particularly devastating for low-income workers, immigrants, the transgender community, and people of color, who are far less likely to have the financial cushion for unpaid sick time.
We want Duluth to be a city where no parent has to make the impossible choice between staying home with a sick child – and losing a day's pay or even their job – or sending their little one to school sick so that they can keep food on the table and make ends meet.
Tell the Duluth City Council that you support earned sick time because it's a win-win-win for working families, businesses, and the city economy when hardworking Duluth residents have the guarantee of this basic workplace protection!
After all, paid sick days reduce turnover costs, boost workplace morale, and help stop the spread of illness among workers. [2]
Together, we're a powerful force for Duluth women and families.
– Sara and the whole MomsRising.org team
 
PS -- Want to go the extra mile in making sure that the Duluth City Council knows how much their constituents support earned sick and safe time? Join our friends in Duluth — Take Action MN — for a fun and powerful phonebank Thursday, October 12th from 5:30 - 8pm!
[1, 2] Economic Policy Institute - The need for paid sick days