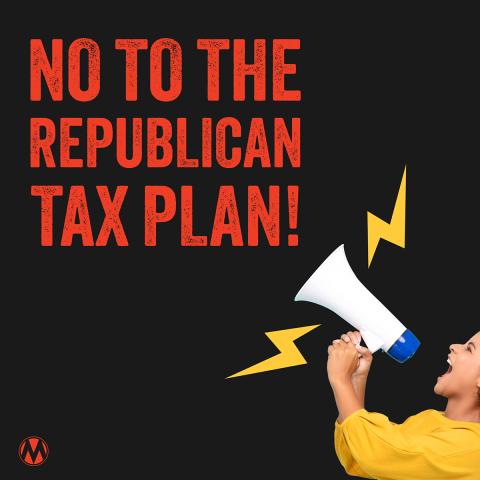 Tax cuts for families NOT the 1%!
The House of Representatives Republicans are at it again! In the same month they cut SNAP (food stamps) for older adults and limited funding for childcare and WIC, they also introduced a new tax bill that would give massive tax cuts to wealthy corporations and the super rich! [1]
We will not stand quietly by as more tax breaks are given to Big Business while our families suffer!
***SIGN OUR LETTER NOW calling on Congress to make the wealthy and mega-corporations pay their fair share, not give them more tax cuts!
The new Republican Tax Scam 2.0 is a hodgepodge of awful tax policies that gives away $237 billion to mega-corporations and wealthy individuals! [2] It includes such terrible policies as renewing tax cuts for the 1% passed by President Trump, giving more tax cuts for businesses, and eliminating the clean energy tax cuts that make our environment cleaner and help fight climate change. [3] 
What does this all add up to? The Institute for Taxation and Economic Policy says that the major provisions of the Republican bill (including a temporary boost to the standard deduction that mostly benefits high-income households) would give the richest 1% an average tax cut next year of over $16,000. Foreign investors in American corporations would walk away with almost $24 billion in U.S. tax savings. [4, 5] 
This tax scam doesn't even begin to address the types of tax policies our families really need, especially a permanent expansion of the Child Tax Credit (CTC)!
***Join MomsRising in standing up against yet another GOP Tax Scam and sign our letter to Congress now!
We know that all this type of legislation does is line the pockets of mega-corporations and the super wealthy while leading to cuts in programs our families need to survive and thrive! The super wealthy and big corporations should be required to pay their fair share in taxes so that we can pay for things like quality, affordable childcare, paid leave for all, care for seniors and people with disabilities, and the expanded Child Tax Credit! There are dozens of ways to raise more federal revenues and make the tax code fairer and more equitable. For example, if Congress passes the Billionaire Minimum Income Tax, we would have enough money for all workers to have 12 weeks of paid family and medical leave. We could also pay for free child care for 16 million children and provide fair wages for childcare workers. THIS is the type of tax policies Congress should be working on – not wasting time trying to make Trump's terrible trickle down economics scam permanent.
Make sure to sign our letter to Congress speaking out against the terrible Republican tax plan and then send this email to all your friends and family so they can sign as well. The House Republicans are not letting up—they are going to try to pass this bill within the coming months!