Take Action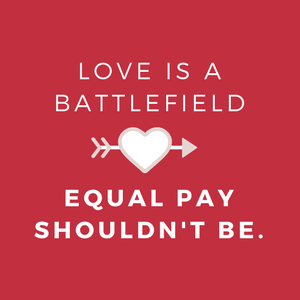 TAKE ACTION: Roses are red, violets are blue, it's time that equal pay made its debut
"We are strong, and no one can tell us we are wrong...about the wage gap."
Ok, I know that's not how the classic Pat Benatar song goes, but what better way to inspire action than with a power ballad?
Tomorrow is Valentine's Day and I need your help to send a special message to lawmakers in Olympia: Love can be a battlefield, but equal pay shouldn't be. Click here to send an Equal Pay Valentine to Olympia!
Since January, MomsRising members (that's YOU!) have sent over 1,400 messages to make it clear: Washington moms, women, dads, and families are head over heels for the Equal Pay Opportunity Act or the EPOA for short (HB 1506/SB 5140).
Click here to send an Equal Pay Valentine message straight to your lawmakers in Olympia.
Here's the deal: The EPOA will ensure that employees can share their wage or salary information with co-workers without fear of retaliation, like losing their jobs. This is a big deal because the fact is, most people don't find out they're being paid less for the same work until they have a water-cooler conversation with a friend at work. The EPOA will also create new protections for women who are tracked into lower paying jobs or unfairly passed over for promotions.
The good news? The EPOA has passed the House with strong bipartisan support. The Legislature only has a few weeks left to "swipe right" on equal pay and pass the EPOA into law.
But some heartbreakers in the business community are insisting that legislators include preemption in the EPOA. Preemption is a fancy word for prohibit, meaning they want to use the first update to our state's equal pay laws in 70 years (talk about time after time) to take away the right of future generations to fight for stronger protections at the local level.
Take action and tell Olympia: Don't preempt our love for equal pay!
This Valentine's Day, help us remind Legislators that roses are red, violets are blue, it's time that equal pay made its debut.