Take Action!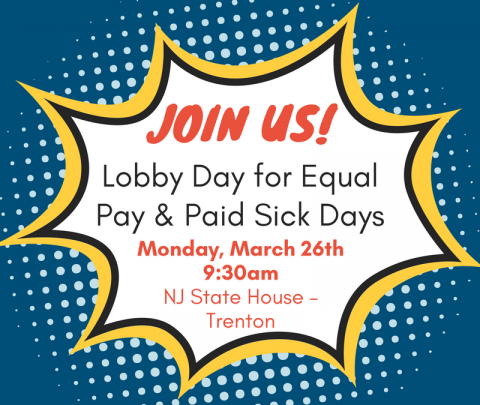 TAKE ACTION: JOIN US IN NEW JERSEY: Lobby Day for Equal Pay and Paid Sick Days
Overwhelmed by the sheer number of issues in our nation that you wish you could change?
I'm right there with you –– and this is why I'm so excited about an amazing opportunity to spark major change right here in New Jersey. With so many disheartening and outrageous decisions coming out of our nation's capital these days, taking action in our own backyard is the perfect antidote.
When they go low, we go local! RSVP to join MomsRising and the entire NJ Time to Care Coalition at a fun and powerful lobby day for equal pay and paid sick days at the New Jersey State House in Trenton.
What: Lobby Day for Equal Pay and Paid Sick Days
When: Monday, March 26th
9:30am - Registration & breakfast (and crafts for kids), followed by advocating for equal pay and paid sick days with legislators, a rally, and lunch. (Please join us even if you think you'll have to leave early!)
Where: The NJ State House in Trenton, NJ
>>> Please bring your kiddos for this valuable hands-on learning experience! Breakfast, lunch, and arts & crafts all included/free.
Never lobbied before? No worries! No experience, other than caring about equal pay and paid sick days, is necessary! We'll do all the prep work and tell you everything you need to know.
Here's the scoop on the legislation –> The New Jersey Legislature is currently considering an equal pay bill and a paid sick days bill – both of which we will advocate for during our lobby day.
The NJ Pay Equity Act (A1850/S104) was reintroduced by New Jersey Senate Majority Leader Loretta Weinberg and Assemblywoman Pamela Lampitt. It would prohibit unequal pay on the basis of gender for positions that are substantially similar and for women who discover they are being paid unfairly, this legislation would allow back-pay for the entire period of time in which the violation occurred. As you'll probably recall, the NJ Pay Equity Act was passed by the Legislature and repeatedly vetoed by former Governor Chris Christie for the past three years. Now is the time to pass this into law!
The Earned Sick and Safe Days Act (A1827/S2171) was introduced by the same legislators and would allow all workers in New Jersey to earn paid sick days to recover from an illness or care for a sick loved one when a cold or the flu inevitably hit our families.
Ready to make sure the NJ Legislature passes both bills this year?! Join me and other MomsRising members (and their kids!) from the Trenton area – RSVP for the March 26th lobby day!
*** Can't make it? Don't worry — you can still help make the lobby day a big success! Share the RSVP link with your friends and family in the Trenton area.
Together, we're a powerful force for women and families in New Jersey.