take action; events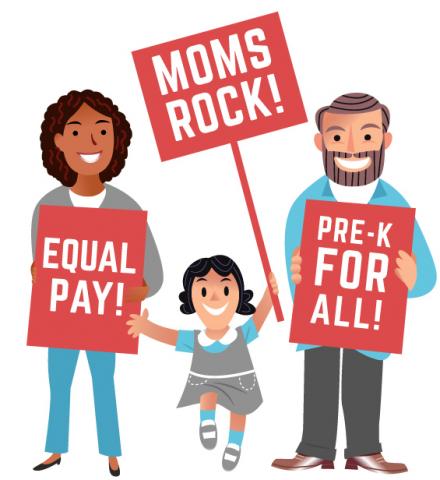 TAKE ACTION: Are you ready to rise in Olympia?
Moms, dads, and kiddos are bringing the voices of families to Olympia -- will you join us?
MomsRising is hosting TWO, high-impact events at the state capitol in Olympia over the next few weeks and we want YOU to be a part of it. Together, we are bringing the voices and stories of families and children right into the heart of the State Legislature. We've seen time and time again that when moms come to the state legislature in Olympia, mountains move (and policy does too). So we need you to come stand, march, and rally with us.
That means we need you to mark your calendars, TWICE!
Here's the deal: We have two huge opportunities to move critical legislation forward in the Washington State Legislature.
Kids March for Early Learning: Three Cheers for Pre-K, ECEAP & Early Care and Childhood Education!
Wednesday, January 31st at 10 am
Kids and moms will be marching on Olympia with early learning champions in support of kids' FUNdamental rights to pre-k! Bring your kids to toddle, walk, and march around the capitol with chants, songs, signs, and hats for our pint-sized marchers. Help us remind leaders to expand access to pre-k for our littlest learners!
Mom Agenda Rally for Equal Pay, Early Learning, & More with Governor Inslee
Friday, February 16th at 10 am
Moms will be in Olympia to send a strong message to legislators to finish what they've started on two priority issues for Washington moms: high-quality, affordable early learning and equal pay for equal work. Washington moms know that our families need graduation caps, not wage gaps!
To put it simply, early learning and the wage gap add up for Washington State moms and families. With women earning cents on the dollar, and moms earning even less, the skyrocketing costs of early learning and childcare leave families strapped and struggling to get ahead. But we can invest in stronger outcomes for moms and children this legislative session by expanding access to high-quality early learning programs like ECEAP and bringing our state's equal pay laws into the 21st century.  
When moms, dads, kids, and grandparents join these high-impact events at the Capitol, it sends a powerful message to legislators that Washington families are watching and looking to our leaders to take action on issues like early learning and equal pay. These events are also a great, family-friendly way to teach our littlest advocates about the power of the people and democracy.
Can you join us to build MOMentum on equal pay and early learning in Olympia? Say you can! Learn more and RSVP here:
→ RSVP: Kids March on Olympia for Pre-K and Early Learning: Wednesday, January 31st at 10 am
→ RSVP: 2018 Mom Agenda Rally with Governor Inslee: Friday, February 16th at 10 am