Make sure FL moms vote!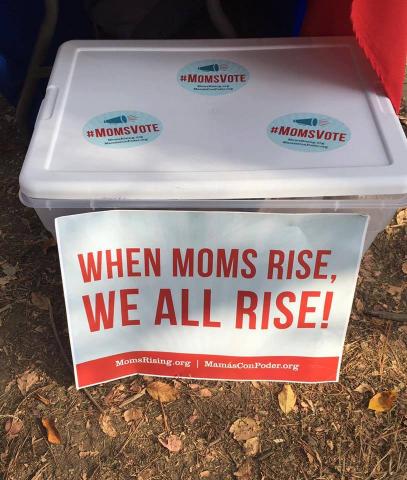 Super Voter Treasure Boxes: Coming to a polling place near you in Florida!
You spoke, and we listened! Families across the country are telling us that they can't wait to vote AND that they are looking for impactful ways to ensure other families vote too. That's why we couldn't be more excited to announce the launch of our Super Voter Treasure Boxes in Florida!
One of the voting challenges we hear most often is that it can be hard to wait in long polling lines with children. This is especially true along the I-4 corridor for the Tampa Bay Area and Orange County! That's where you come in!
Sign up today to help ensure parents get out to vote in your area!
With the input of our members, MomsRising has developed voting treasure boxes full of fun activities to help parents keep children occupied and allow them to remain in line to vote. We piloted these boxes in 2016 in North Carolina at early voting locations with a history of long wait times, and they were a huge success with parents who were hesitant to come out to vote and to stay in the lines once they got there. We also heard that families loved that it made voting a fun experience for the whole family!
But the secret ingredient to making the Super Voter Treasure Boxes work is YOU! 
We need volunteers to host a treasure box at specific polling locations in Hillsborough, Pinellas, or Orange County on November 3rd, 4th, or 6th. It's a high impact way to make a difference this election AND it's a fun activity you can do with your kids. Sign up today! 
You pick the time that works, and we'll ship a treasure box directly to you. It's simple and powerful.  The treasure boxes come fully stocked with bubbles, small toys, stickers, tattoos and all sorts of fun stuff to keep the kids occupied while parents wait in line. We also have materials you can share to let voters know about MomsRising and how they can stay involved even after the election. You'll have directions, signs, everything you need to make it happen – all in one box.
When you sign up, you can select one shift to volunteer or sign up for multiple times and days! You can also arrange with friends to share the treasure box to cover more shifts. We'll call the local boards of elections to let them know to expect you.
We'll spread the word to families in your community to encourage families to come out and see you. And you can help make sure people know you'll be there by posting on social media, in local groups, and sharing with your friends.
On the day you're hosting, you'll simply go to the polling location and set up behind the line where candidates are able to pass out material. You can bring a small table, TV tray, or even a lawn chair to put your box on, and you're in business! We'll have everything ready for you, down to the rap you can use when talking to parents.  You will also a receive a special #MomsVote t-shirt and button as tokens of appreciation.   
With your help, we can ensure that parents don't leave the lines and the voices of moms and those who love them are heard! Sign up today to volunteer a little time and make a BIG impact.
We know the voices (and votes!) of moms and people who love them are critical to building the family-friendly state and nation we all deserve. Help make sure families flex those superpowered votes this election by volunteering today!