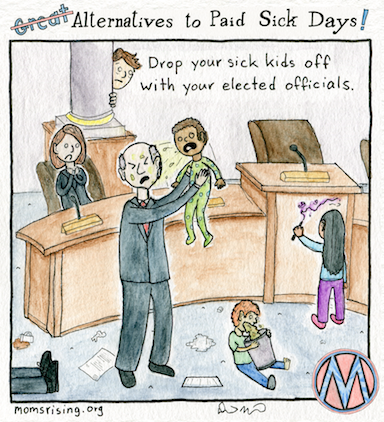 Stop the Epidemic Flu Outbreak with Paid Sick Days!
This year's flu season is off to a dangerous start: 43 states have reported widespread flu-like activity and the total number of childhood fatalities during this year's flu season has already reached a tragic twenty-one.
The flu is spreading, but we're missing one of our most important tools to fight the flu: paid sick days!
Curbing the flu epidemic is important for the sake of our families, children, and communities. And you hold a magic weapon — your power to ask Congress to support paid sick days.
So flex it right now and send a message to your members of Congress telling them to help combat the spread of the flu and to support paid sick days!
Each time I hear or read that the best way to stop the spread of the flu is to stay home, I want to throw my hands up in the air! Forty-four million workers quite literally can't afford to do that in the United States because they can't earn a single paid sick day.
Paychecks are precious for working families and without paid sick days, many parents have to go to work sick or send their children to school sick. Our lack of a national paid sick days policy is fueling the flu epidemic. Now more than ever, we must ensure that all workers, including those serving our food and caring for our children, have paid sick days.
Urge Congress to combat the flu epidemic by supporting paid sick days for all workers!
Lisa, a MomsRising member in Pennsylvania knows first-hand how devastating a lack of paid sick days is when your family is struck by the flu.
"I'm a single mom of two who lives from paycheck to paycheck. The worst time was when we were all hit with the flu. All three of our cases were considered "mild", but I was off work for a full 6 days straight. I was barely able to pay for food let alone mortgage and car payments. We are lucky that we are for the most part healthy, but even a day or two at home with the kids is devastating to my shoe-string budget. It's tough when you have to make a choice between food and medication, there's no winner there."
When working people have no choice but to go to work sick, they risk infecting others and delay seeking care. As Lisa said, there's no winner there. That's why paid sick days reduce the spread of the flu and are a win-win for our health and family economic security.
Don't delay – tell Congress today to support paid sick days and help curb this year's epidemic flu outbreak!
Let's help the new Congress get off to a strong start during their first week in session.
Let's face it, they could use the help. A recent poll found that lice and root canals were more popular than the last Congress, but supporting paid sick days is a one-way ticket to popularity for the 114th Congress. A whopping 81% of voters, across political parties, gender, and race, say it's important for lawmakers to consider paid sick days laws because they help keep working families economically secure.
In fact, a movement for paid sick days is sweeping the nation and in 2014 alone, two states and ten cities passed paid sick days bills — that's more than 2006 - 2013 COMBINED! It's time for Congress to join in the momentum because paid sick days are a job-saving workplace right that lifts up American families and employers. It's a win-win because businesses benefit too. When employers implement paid sick days, typically at little to no cost, they actually end up saving money because the cost of replacing an employee is around a fifth of their total salary. For example, the paid sick days ballot measure that just passed in Massachusetts, thanks to overwhelming voter support, will save employers $26 million annually. Incredible!
Every mom is a SuperMom, but we can't fight off an entire flu epidemic alone, and we should never have to choose between our families' health and our families' economic security.
If we all take action together urging Congress to support paid sick days, they won't be able to ignore us, or ignore the headlines across the nation about the dangers of this year's flu season. 
Don't forget to make sure Congress knows how important paid sick days are to curbing the flu outbreak. This can't wait!
Together, we're a powerful force for women and families.
 
Do you have a personal story about paid sick days — how they've helped your family or how you've struggled without them? CLICK HERE to easily share your story and we'll deliver it to your members of Congress so they know how important paid sick days are for hardworking families.