Some cosmetics companies treat every day like April Fool's Day
When we were 12 and 13 years old my girlfriends and I would often troll the cosmetics aisle of our local drugstore looking for new and exciting products to buy with our allowance money. Being a green-minded person even then, I reached for cosmetics I thought were natural, like Aveeno, Herbal Essences, and St. Ives (we loved that Apricot Scrub!). I assumed that the products on the store shelves were safe, and that natural would be even better for me and for the planet.
I was fooled. I eventually found out these products are no different from conventional ones: they, too, contain chemicals that are hazardous to health and the environment. It turns out that cosmetics are basically unregulated, and that a company can claim their products are "natural" or "organic" even if they contain few if any natural or organic ingredients.
Was it my fault for falling for companies' claims, for buying the wrong thing? No way! My teenage self, in a critical time of development, fell victim to greenwashing, when a company makes "green" claims to appeal to consumers even though the product, company or ingredients is not truly healthy or sustainable. These same companies (and many, many more) are still greenwashing.
Click here to tell these greenwashers that we want cosmetics that are really safe, not just a lot of foolish marketing!
Aveeno (owned by Johnson & Johnson) is found in the bathrooms of my green-leaning friends, but some Aveeno products contain mystery "fragrance" ingredients and chemicals linked to cancer, reproductive and organ toxicity. A recent analysis of the Skin Deep database shows that about half the 115 Aveeno products in the database score 5-8 on the toxicity scale of 0-10 (with 10 being the most toxic). Aveeno is making products that contain petrochemicals linked to cancer, including 1,4 dioxane, and synthetic fragrance, calling them "natural" and then marketing them to all of us -- including parents looking for the safest products they can find for their families.
Herbal Essences (owned by Procter & Gamble) claims to be "inspired by nature." But there's not much natural or "herbal" about a line that contains a dozen synthetic chemicals, including sodium laureth sulfate, diazolidinyl urea, fragrance and others linked to health problems. This top-selling brand continues to market to young women in particular, who use more cosmetics on average than the rest of us and who also have cosmetics chemicals in their bodies.
On its website St. Ives' (owned by Alberto-Culver) now touts its "100% NATURAL MOISTURIZERS" and "natural ingredient glossary," but sleuthing visitors can dig to find a list of other ingredients in the products, including synthetic surfactants, preservatives and fragrance – which are not at all "natural." St. Ives says it no longer uses parabens and phthalates, which is a great first step, but they still have a way to go to make truly "100% Natural" products.
"Natural" personal care products make up one of the fastest growing segments of the $50 billion cosmetics industry, and you've probably noticed that more and more companies are making green claims. Fortunately, many companies are making products that are, in actuality, safe and green. Click here for tips on finding safer cosmetics, and keep in mind that less is more- avoid "fragrance" and opt for cosmetics with fewer ingredients, and more pronounceable ingredients!
You can also look for NPA, NSF and/or USDA Organic* certifications on products to know that a third-party certifying body has looked into ingredient sourcing. (To learn more about the wide world of cosmetics certification, click here.)
So, it's clear that companies have gotten one part of the message: Many of us want safe, green products. But ultimately things won't change unless we send Aveeno, Herbal Essences, St. Ives and other companies the most important part of the message: We will no longer be fooled by false green claims!
Please take action, vote with your dollars, and spread the word!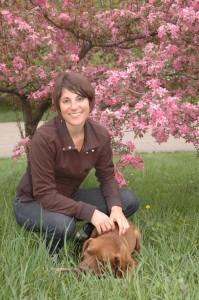 Yours in pursuit of truly "green" and truly safe products,
Mia, Campaign for Safe Cosmetics Organizing Director
* NPA is the Natural Products Association Standard.
* NSF "Contains Organic Ingredients" seal is a project of the Public Health & Safety Company.
If a cosmetic product contains or is made up of agricultural ingredients, and can meet the USDA/NOP organic production, handling, processing and labeling standards, it may be eligible for USDA Organic certification. [http://www.ams.usda.gov/AMSv1.0/nop]