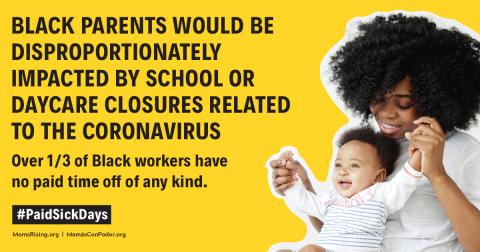 Sign the Coronavirus Prevention Petition: Congress must pass PAID SICK DAYS!
With many new cases of the coronavirus (COVID-19) being announced every day, it's clear we need to:
Stay calm and listen to the experts
Wash our hands and avoid touching our faces
The need for paid sick days in our country is more urgent than ever. Workers without paid sick days are 150% more likely to go to work when they have the flu or a viral infection like coronavirus, so it's no surprise that states and cities that have passed paid sick time legislation have seen their flu rates decrease by up to 40%! 
SIGN THE PETITION: Urge Congress to pass paid sick days, not just for coronavirus prevention but permanently!
Experts are urging people to stay home if they're sick in order to curb the spread of the virus, but what about the 32 million people across the United States that work but don't have any paid sick days? Staying home instead of going to work when they're sick isn't a straightforward choice for them because it means losing critical pay that they need to cover rent, groceries, and heat – or even losing their job altogether, as nearly 1-in-5 low-income moms have previously been fired for this very reason.
It's this simple: paid sick days will help limit the spread of the coronavirus but over 32 million workers in our country – many of them in the food service industry – don't have access to any!
TAKE ACTION: Tell your members of Congress to move quickly to pass paid sick days, not just for public health emergencies but for everyday needs too, and to do it now.
It's important to note that we don't just need access to paid sick days during a public health crisis – we need them in normal times, too. Any measure Congress passes must include access to paid sick days when we're dealing with common colds and the regular flu season. Paid sick days are a win-win-win for working families, businesses, and the economy.
In fact, paid sick days are proven to reduce turnover costs, boost workplace morale, and help stop the spread of illness among workers. Employees coming to work sick because they don't have access to paid sick days cost the national economy $160 billion annually because of lost productivity.
We need paid sick days right now to help stop the spread of the coronavirus. Together, we're a powerful force for women and families.