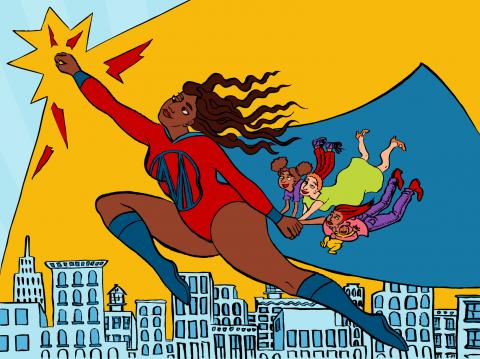 Send some Washington MOMentum to Congress from your keyboard!
Next week, thousands of women from across the country will gather in Washington D.C. for the first-ever United State of Women Summit to celebrate how far we have come and rally support for the broad agenda we need to achieve true gender equality. Our Executive Director will even be a speaker at the Summit!
MomsRising's Washington MomsForce couldn't be more excited to be there, and we want to bring your voices with us!
Share your personal message for Congress (or pick one that we've written for you!) and we'll hand-deliver it to Washington representatives in Congress next week to show that moms and dads are counting on them to prioritize family economic security policies!
Not sure what to say? Here are some ideas: 
Our family is standing up for affordable, high-quality early learning including pre-school and child care and our family votes!

It's time that the United States pass universal, paid family and medical leave to boost our families AND our economy! 

No one should be forced to choose between caring for their family and providing for them -- we all need paid sick days! Moms and families are counting on you! 

Women deserve equal pay for equal work. Period.
Why send a message? Your voice matters! Elected leaders choose what to prioritize based on what they hear from their constituents… YOU! So when you take a moment to share your thoughts with a member of Congress it let's them know that moms and dads are paying attention and are counting on them to move forward policies that lift everyone. And, it inspires them to champion these policy areas in Congress too!
Our voices are needed right now! It's not easy to raise a family these days, for so many reasons. To start, our labor force is now 50% women for the first time in history and three-quarters of moms are now the primary or co-breadwinners for their families. On top of that, being a mom is now a greater predictor of wage and hiring discrimination than being a woman. 
Never fear! Everyday heroes are here! That's us! You, me, and our communities! We're here to move forward proven solutions that lift families, businesses, and our economy!
Tell Congress: It's time to break down the maternal wall and catch up our public policies with our modern realities.
Send your message now and we'll hand-deliver it next week in D.C.! 
Many families are in an economic pickle. But don't give up hope because solutions are indeed possible. Yes, solutions are indeed possible. Solutions like ending pregnancy discrimination and making paid family (medical, maternity, and paternity leave) real for every working person. And solutions like making high-quality childcare affordable, equal pay, health care, sick days, and healthy foods available to everyone. Together we're fighting to close the wage gap, close the school-to-prison pipeline, improve gun safety, and to make sure all families can thrive.
And we're gaining ground! The voices of moms are incredibly powerful. We're seeing these types of policies move forward in red and blue states alike across the nation as moms and dads come together to share their experiences and priorities with leaders. MOMentum is building!
Your personal stories, as constituents, are powerful and change the way our lawmakers see these issues. By sharing your message, you're helping take the voices of thousands of families in our state straight to the ears of Congress! Share your message now (or pick one that we've written for you to make it easy!).
As a triple bonus: All of this work that we're doing? It's not just good for our own families, it has a triple bonus of also boosting businesses, our economy, and making our nation stronger. 
Together, we are changing more than diapers -- we are building a nation where families, communities, businesses and our nation can thrive! It turns out moms and dads have secret superpowers (even if they're not wearing capes). Join us and take action now!