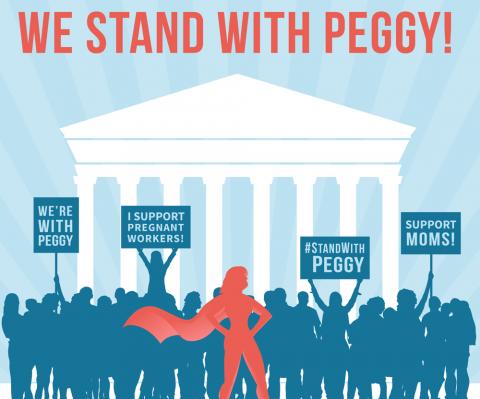 Send message of support to brave mom at Supreme Court hearing
Our definition of bravery is standing up for what you know is right. Even if it means standing up for a very long time — and especially if it means standing up to a powerful corporation when victory is uncertain.
Meet Peggy Young, the definition of brave:
When Peggy, a UPS driver for 10 years, found out she was pregnant, her doctor recommended that she avoid lifting more than 20 pounds. But UPS refused her request for "light duty" — even though the company provided accommodations to people with disabilities, on-the-job injuries, and even to people who had lost their drivers' licenses as a result of DUI convictions. Instead, she was pushed onto unpaid leave for the duration of her pregnancy and lost her UPS-provided health benefits when she needed them most.
Peggy bravely stood up to UPS for violating the Pregnancy Discrimination Act and NOW her case is headed to the U.S. Supreme Court where it will be heard on December 3rd.
Let's stand with Peggy Young. Send this SuperMom a message of gratitude and support for standing up for her rights and the rights of pregnant workers across the nation. You can either sign our note to her or personalize your own when you click here: http://action.momsrising.org/sign/PeggyYoung/
* We'll make a giant Thank You card for Peggy with your signature on it, and will hand-deliver each message of support (along with a beautiful bouquet of flowers and a MomsRising t-shirt!) to Peggy and her legal team on Wednesday, December 3rd, the day her case (Peggy Young vs. UPS) will be heard by the U.S. Supreme Court.
This Supreme Court case is a very important one, not just for Peggy, but for women across the country who need reasonable pregnancy accommodations.
This is a big deal. No mother should ever have to choose between her job and the health of her pregnancy, but too many women still face this impossible choice today. Women of color and immigrant women, who are overrepresented in physically demanding jobs, are especially impacted by employers refusing to accommodate pregnant workers with medical needs.
As you can imagine, this discrimination has dire consequences for a family's economic security because it leaves pregnant workers without a paycheck at the moment they need it most.
Take a moment to sign our Thank You card to Peggy Young so we can give her a message of encouragement as she takes her MOM POWER to the Supreme Court. 
http://action.momsrising.org/sign/PeggyYoung/
In her own words, here's a glimpse of what Peggy Young experienced as a pregnant worker:
"UPS refused to let me work either light duty or my regular job even though I begged to work. The highest manager in the UPS building where I worked told me that I could not come back in the building until I was no longer pregnant because I was too much of a liability."
Can you believe that?! Each time I hear her story, my blood boils. And it boils even more when I hear more stories about pregnancy discrimination from MomsRising members.
Amanda, a MomsRising member in Iowa, shared:
"I am currently 18 weeks and 5 days pregnant. At 17 weeks, after I had to rush from work to the hospital, my doctor informed me that I should be placed on desk duty at work. However my employer does not accommodate such restrictions, so I was forced to take unpaid leave. I have no way to pay my bills or to pay for gas to get to my doctor."
MomsRising member Jennifer in Arizona shared:
"I was working at a daycare in 2001. I was pregnant and less than 3 months along. In the beginning, I was working with infants and toddlers which was not a problem, because they all weighed under 30lbs. Then I was placed with the 4-5 year olds. One of the other employee's child climbed on a table. When I called to have her come and take him off of the table (repeatedly), I was ignored. I was fired right after that for 'not being able to perform necessary duties' despite the fact that they were aware of my pregnancy. How are companies still getting away with this?"
When Florence, Kentucky police officer Lyndi Trischler was five months pregnant with her second child and no longer able to wear the body armor or utility belt required for her patrol work because they didn't fit, made it difficult to breathe, and caused her pain, she let her supervisor know. She also experienced the onset of heart palpitations and, according to the Washington Post, at her doctor's urging, she asked her supervisors if she could be assigned to light duty for the duration of her pregnancy. This was the same accommodation she'd received when she was pregnant with her first child. Her supervisor denied the request.
Amanda, Jennifer, Lyndi, and Peggy are not alone. More than 35 years after the passage of the Pregnancy Discrimination Act, women make up almost half of the labor force and are still experiencing discrimination on the job when they become pregnant. That's why we took swift action for Lyndi and delivered 10,000 petitions urging Florence, KY Mayor Diane E. Whalen to change the city's discriminatory policy and let Lyndi get back to work and to earning her much-needed paycheck.
Now it's time for us to stand with Peggy because her bravery has put us many steps closer to ending discrimination against pregnant workers.
It's the least we can do → Add your name to this message of thanks and support that we're hand-delivering to Peggy at the U.S. Supreme Court.
http://action.momsrising.org/sign/PeggyYoung/
Let's bring together our SuperMom power, send a BIG message of support to Peggy Young, and continue moving mountains together to enable all families to thrive.
Together, we're a powerful force for women and families.
 
P.S. Have you ever experienced pregnancy discrimination in the workplace? Were you ever in a position where you felt you had to hide your pregnancy during a job interview? Share your story here: https://www.momsrising.org/member_stories/topic/fired-for-being-pregnant/