Secret Toxic Chemicals in Glade, Windex & Pledge
Have you seen that SC Johnson commercial that's on 24/7? The one about how they're a family company committed to "honesty" and "transparency," and that's why they disclose all ingredients right down to fragrance?
Except that they don't actually disclose the fragrance ingredients that make up the scents in particular products. Seriously.
That's why Women's Voices for the Earth just released our own commercial spoofing SC Johnson, and calling the makers of Glade, Windex, and Pledge out on misleading the public. Watch below to get the real story.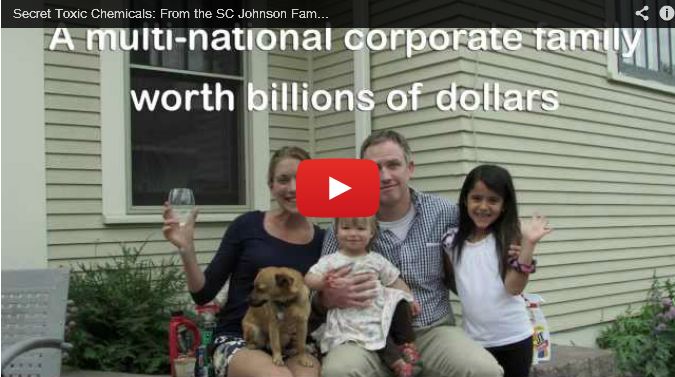 SC Johnson is not unique in keeping fragrance ingredients a secret - most companies across industries keep fragrance ingredients a secret, dubbing them "confidential business information." But they are unique in marketing themselves as committed to honesty and transparency – while keeping important ingredient information from consumers. These are just a few of their other quotes emphasizing that commitment:
"We know you value transparency, and we're committed to sharing what's inside our products."
"Today's families want to know what's in the household cleaning and air freshening products they use in their homes."
"That's why we disclose all ingredients… So you know what you're bringing into your home."
Ironically, given all of this touting of the company's revolution in honesty, we actually have no idea what we're bringing into our homes when it comes to SC Johnson's fragranced products.
Health Problems Linked to Fragrance
So what's the problem with keeping fragrance ingredients a secret?
The bottom line is that we have a right to know what's in the fragrances we're spraying in our homes, especially when it comes to chemicals linked to allergies, cancer, and reproductive harm. Studies are increasingly showing that chemicals in fragrance are harming our health, particularly the health of women and children.
We have a right to know what chemicals are causing these health problems.
What Could Be in SC Johnson's Fragranced Products?
So, what exactly is SC Johnson hiding? In 2011, Women's Voices for the Earth (WVE) independently tested some Glade products. Test results revealed synthetic musks and allergens. Test results also revealed the presence of phthalates, which the company committed to phase out two years before – SC Johnson claimed this was a contamination issue, but we have no confirmation that this issue has been resolved. Here's the thing: The lab was only specifically testing for those chemicals because we asked them to.  Unfortunately, we don't have the money to walk into a lab and say, "Tell us everything that's in this fragrance."  (Sure, companies deconstruct other companies' scents all the time, but we don't have that kind of budget.) In essence, that means that any of the thousands of ingredients we know are commonly used in fragrance could also make up a Glade scent.
A few months after those test results were published, SC Johnson released a master list of nearly 1,500 chemicals used in all of their fragranced products. Unfortunately, the master list doesn't distinguish which chemicals are in which products. Super useful, right? Wrong.
Most people don't have the time or inclination to wade through 1,500 chemicals, so allow us to highlight a few chemicals on that long, unwieldy list that consumers might be concerned about:
Synthetic musks (galaxolide and tonalide): potential hormone disruptors which are persistent and bioaccumulative, and may break down the body's defenses against other toxic exposures. These chemicals are showing up in our blood and breast milk.
All 26 of the allergens required to be disclosed on labels in the European Union (EU).
Several additional allergens, which have been deemed of concern by the EU Scientific Committee of Consumer Safety.
Terpenes, which can react with ground level ozone in the air to form cancer-causing formaldehyde.
Petroleum (the same compound in gasoline).
It's safe to say that most consumers wouldn't consider a long list of chemicals, some of them harmful, which might or might not be in fragranced products, as fulfilling a "commitment to honesty and transparency."
Allergen Double Standard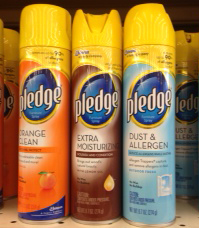 SC Johnson gives their EU consumers more information than they give their US consumers when it comes to some fragrance ingredients – namely, allergens. In the EU, companies are required to disclose 26 ingredients that the European Union has determined to trigger allergies.  SC Johnson therefore discloses all 26 of the allergens required in the EU directly on product labels, but doesn't disclose these allergens in the US because they're not required to by law. It seems that a true commitment to honesty and transparency would include giving all consumers the same information – we all deserve to be able to avoid chemicals that may cause allergic reactions, no matter where we live.
Fun fact: SC Johnson's Pledge Dust & Allergen is labeled "Reduce allergens while dusting" and yet test results show that it actually contains the allergens limonene and DL-citronellol. Don't you think that's something people using this product would like to know?!
Ignoring Consumers Who Want Ingredient Transparency
In yet another demonstration of hypocrisy, a study just came out a few months ago called Thinking Consumption: Consumers and the Future of Sustainability, sponsored by SC Johnson and others. The headlining find on the study was that consumers rank ingredient transparency among the most important issues for brands:
Nearly 9 in 10 consumers globally (86%) say "ingredient transparency is extremely important or very important" for companies to address as part of their products, services, or operations, including 88% of consumers in emerging markets and 84% of consumers in developed markets.
And their study isn't the only evidence that consumers want them to come clean on fragrance ingredients. Since WVE launched our Secret Toxic Chemicals: From the SC Johnson Family to Yours campaign campaign, thousands of people have called on SC Johnson to list all fragrance chemicals through direct emails and on social media. And the same day we launched our spoof commercial, we teamed up with our partners at SumOfUs.org to deliver almost 52,000 signatures from consumers demanding increased ingredient disclosure.
So far, SC Johnson has failed to respond to a single email -- despite the fact that the company touts that "As a family company, listening and responding to consumers is SC Johnson's top priority."
In fact, SC Johnson's only response has been this: "Consumers have a choice whether or not to buy products that contain fragrance." – basically, if you don't like it, tough. Doesn't seem like much of a response to the valid concerns of their consumers, really.
That's true, we do have the choice; although it can be surprisingly difficult to avoid fragrance, given that most cleaning product companies make one fragrance-free product per brand, if that, and the retail store might not even stock it. But the point is that we want to enjoy fragrance. We just want to know what's in it, so that we have the option to make healthy choices.
So, I simply ask you this, Mr. Johnson. Now that you have hard data in your hands proving that your consumers desire transparency, will you act? Will you take the first leap in your industry, as you have done many times before, and begin disclosing product-specific fragrance ingredients?
Quite frankly, keeping fragrance ingredients a secret is quickly becoming an outdated tradition. As a company that calls itself as an industry leader, it's time to get ahead of the curve on this one.