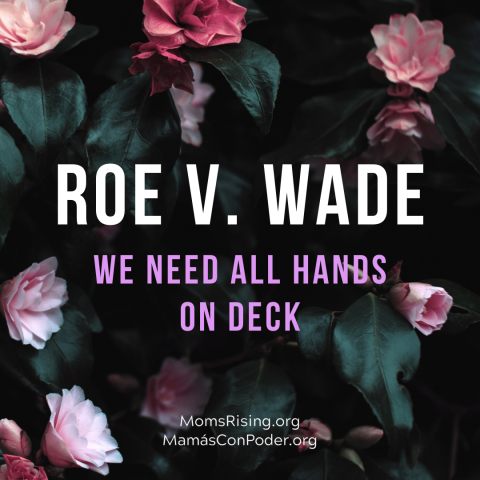 Roe v. Wade: We need all hands on deck.
Last night, you might have been watching the Met Gala or wrapping up your normal Monday evening activities when a leaked draft opinion of the Supreme Court's vote to overturn abortion rights landed in our news notifications. Their only goal: to strike down Roe v. Wade, decided in 1973, and strip women of their human right to bodily autonomy. Now more than ever, we need your donations and your support!
Click here to donate to our movement towards culturally competent reproductive health care! 
Before we get into the details, we want to make the facts known: Abortion is still legal and is accesible by LAW. The leaked draft order is NOT a final and/or official opinion. However, the outcome is still very possible and if Roe is overturned, it would mean 26 states would quickly move to make abortion care illegal. 13 of those 26 states have laws in place, at this very moment, that could immediately go into effect should Roe fall, consequently leaving 36 million women-- that's nearly half of the population of women of reproductive age and people who can become pregnant in the United States. 
If you've been tracking this with us, you know that we have been preparing for this very moment for months. [1] When Texas Governor Greg Abbott signed into law the most dangerous bill, also known as SB.8, which banned abortion at 6-weeks of pregnancy (a stage when most women do not even know they're pregnant), we were distraught. Still, we persisted, pushed our demands, and kept the pressure on the Senate. Our persistence is the reason why we were able to get the Women's Health Protection Act passed in the House of Representatives. Now is not the time to back down.
We can do this. We can win. But we have to work together. Make a contribution towards our movement for reproductive justice!
If the SCOTUS leak reflects the final decision overturning Roe, we will see an increase in maternal morbidity rates across the board. The CDC says, about 700 women in the U.S. die annually as a result of pregnancy or related complications and at least 50,000 women each year experience potentially life-threatening complications in childbirth that can have serious and life-long consequences for women and their families. Black women are three times more likely to die from a pregnancy-related cause than White women. The act of abortion will not simply go away when bans are inacted. More people will die from unsafe abortions, and because racial disparities and social, health, environmental, and economic determinants already exists, the highest amount of people that will die annually from unsafe abortions will be Black women and women of color. There is no nice way to put it, our literal lives are on the line.  
Read our statements from Executive Director and CEO of MomsRising, Kristin Rowe-Finkbeiner and Campaign Director Reproductive Justice, Diarra Aida Diouf: 
"Abortion is legal in the United States today but if the SCOTUS opinion leaked to Politico prevails, everything – everything – will change for every woman and every family in this country. The Court seems poised to strip away our right to privacy and with it women's autonomy and right to be free and equal members of society, our ability to make fundamental decisions about our lives, and to access the health care we need. What for 50 years has been unthinkable will become every woman's reality.

 

Being able to choose if, when, and how many children to have, which includes access to abortion care, is a fundamental right. The majority of people who seek abortion care are moms, and our lives will change in fundamental, truly appalling ways. Initially, lawmakers in 26 states where 36 million women live will deny us access to abortion care. They will be making the most personal decisions of our lives for us, ignoring medical standards. Without question, low-income women, women of color, young and immigrant women, and those who are LGBTQ will suffer the most. And at some point if we have a hostile Congress and President, every woman in America will lose these fundamental rights.

 

This ruling would imperil not just our fundamental right to abortion care but also our right to access birth control. This is not what the country wants. It would be tyranny of the minority, a failure of democracy, and a denial of our essential freedoms." 

 

-Statement of Kristin Rowe-Finkbeiner, Executive Director and CEO, MomsRising

 

If this opinion stands, it would have devastating health and economic consequences for pregnant people, who would once again suffer and die, taking us backward from the landmark Roe v. Wade ruling, which the Court should have secured and expanded, not taken away. And we note that the same people who support abortion bans have long opposed free birth control, improved maternal health care, paid family/medical leave, affordable childcare, and more. 

 

We fear now that the Supreme Court will reverse other fundamental rights, including marriage equality, LGBTQ rights, and more.

 

Moms – and women – must be able to make our own decisions about our bodies, our lives and our futures."

 

-Statement of Diarra Aida Diouf, Campaign Director, Maternal Justice, Reproductive Justice and Youth Justice, MomsRising [2]
All over the country, organizations and activists are working hard to protect our reproductive rights. Right now, thousands of us are rallying at courthouses in dozens of cities across the country and we are in for a long fight. We need support through donations for the next phases of our fight. Are you ready? 
In Solidarity,
Diarra, Kristin, Monifa, Tina, and the whole MomsRising.org/MamásConPoder Team
P.S. Click here to share your story with us! We will gather our voices and pressure federal and state elected leaders to act now!
P.P.S.  To make a direct donation to the National Network of Abortion Funds, which works to remove financial and logistical barriers to abortion access for millions across the country, click here. Use the M+A Hotline if you or someone you love needs a confidential, private and secure phone and text hotline for self-managed miscarriage or abortion. If you or someone you love have questions about self-managed abortion and the law, the Repro Legal Helpline is a free, confidential source for legal advice and information on self-managed abortion. Visit ReproLegalHelpline.org or call 844-868-2812.
References: 
[1] "Reproductive Justice: Here's What You Need to Know"