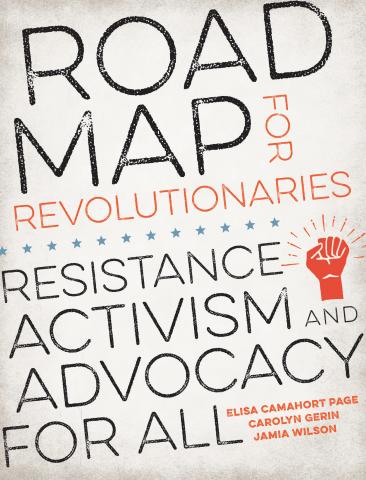 Road Map for Revolutionaries: Resistance, Activism, and Advocacy for All
On November 9, 2016, I didn´t get out of bed when the alarm rang. I felt physically, mentally and spiritually lifeless. I´m no stranger to clinical depression and what I felt that morning and in the days that followed was very similar. As a Latina mom of mixed heritage, I felt powerless, defeated, like the forces of evil had won. How could I explain this to my children? What would happen to my immigrant friends? How could such a racist, misogynistic, vulgar person have been elected as president of the United States? 
I was raised in Spain, and lived under a dictatorship until the age of 12. My grandfather had fought in the Spanish civil war against Franco, and my entire family celebrated what would be the birth of democracy in the country where I was born. One of the things I had always celebrated about my other country, the U.S. was precisely its democracy, freedom of speech, freedom of press and its diversity. 
Of course I couldn´t stay in bed forever and, like many of my like-minded friends, I started to think in terms of what could be done to stand up for the values we believed in. As soon as the Women´s March in D.C. was announced, I bought myself a plane ticket. I was determined to be there, and I made it happen. It was thrilling to be a part of such a massive demonstration and yet, when I got back home from the march, I wasn´t quite sure of what I had accomplished and, most importantly, what more I could do. Thankfully, MomsRising and Mamás con Poder help social media junkies like me digitally sign petitions and spread the word about actions we can take to protect the rights of women and other minorities and even save the lives of our children.
Still, I always want to do more and am sometimes overwhelmed by it all. If, like me, you want to be a revolutionary for the long-haul and effectively make a difference, I have a book for you: Road Map for Revolutionaries: Resistance, Activism, and Advocacy for All, by Elisa Camahort Page, Carolyn Gerin, and Jamia Wilson. This is an engaging, informative read that will be on my bedside table for a long time to come. If you´re concerned that protesting and demonstrating don´t work, the book will tell you why you´re wrong. If you´re worried that you just don´t know how to be a good ally, you´ll find out how to change that. You will also learn how to become a protest ninja, protecting yourself and knowing your rights, while standing up for what you believe in. 
The book is divided into five parts: Protests and Civil Disobedience, Protecting Yourself Online and Off, Economic Pressure, Getting Into (And Out Of) The Government, and Reform School: Reforming Other Institutions in Our Lives. My personal favorite is the section about the U.S. government. Here´s the thing. Although I´m a U.S. citizen from birth (my mother´s side of the family hails from Pennsylvania), I attended school abroad. When I moved to Florida from Spain 14 years ago, although I had voted often in the primaries, I had no idea how the U.S. government really worked. And while I don´t have an issue admitting this, if you dig around a little, it turns out that even people who are born and raised in this country don´t have a clue either! There is an entire chapter in the book that explains in simple lay terms what the local, federal and state government does. I was thrilled to understand it! 
The book is structured in such a way that you can read it from beginning to end or use it as a reference book and pick a chapter or section to help you move forward in one particular aspect of activism. Each of the sections of the book includes Field Notes: Terms and Concepts to Know. You will learn about colonialism, civil disobedience, Columbusing, privilege (and how to own it) and so much more. Whether you are a seasoned activist or just getting started, Road Map for Revolutionaries will meet you where you are now and, most importantly, it will help us all rise and get to where we want to go- together.