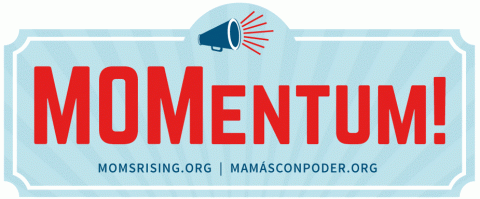 Rising for Black Lives and LGBTQ+ Rights: Your June MOMentum
From Juneteenth to Pride, this June has been marked by nonstop actions for justice by the MomsRising movement. From marching to calling to texting to letter signing, we have been raising our voices in our communities to call for justice and the end to police violence, to advance voter engagement, to support LGBTQ+ Pride month, and so much more. And the summer is shaping up to be even busier as we approach election season. That's why your support and commitment to MomsRising is especially powerful now, as we work to move forward together for a healthier democracy and healthier nation.
Thank you for being part of the MomsRising movement.
---
JUSTICE FOR BREONNA
From marches for George Floyd and for so many others who died due to police violence, to conversations on what it means to defund the police (see below!), to discussions noting the historical link between LGBTQ+ Pride and Black Lives Matter, June was incredibly full of learnings and actions in solidarity to support the Movement for Black Lives. June 13 marked 100 days and NO ARREST in the killing of Breonna Taylor, who was shot and killed in her home by officers from the Louisville Metro Police. Breonna was an award-winning EMT, an essential worker at two hospitals during the pandemic, and beloved by her friends and family.
The MomsRising community stepped up for justice for Breonna in a big way. Thousands signed on to our action urging Louisville Mayor Greg Fischer to fire and ensure the officers are charged for illegally entering her home and for taking Breonna's life.
Thank you for fueling this and all of our work advocating for justice.
Read the latest updates and add your name now: Justice for Breonna.
---
KNOWLEDGE = POWER
The more moms know, the more powerfully they can advocate for themselves, their families and their communities. With support from donors like you, MomsRising staff has delivered dozens of timely, powerful and FREE #KeepMarching trainings on critical issues and advocacy tactics.
This month, the #KeepMarching team held a training on Defunding the Police, diving deep into the history of police and the impact on our communities, and exploring models and ideas for stronger communities.
"I love these meetings. So insightful. Lots of things I didn't know. Thanks for sharing your knowledge." — Stephanie, participant
Check out RECAP: "Defund the police" #KeepMarching meeting for more info. Thank you for helping moms like Stephanie step into their power and rise!
---
MEMBER LOVE
Photo by Ömürden Cengiz on Unsplash
Members share how MomsRising is a positive force in their lives.
"[I support MomsRising because] with everything going on right now, I wanted to be able to contribute in a way that keeps all of our babies and mamas alive, happy, and healthy."
—Fontine
---
MEDIA SPOTLIGHT
6 Black Moms on the Frontlines of the Fight Against Racism
Parents Magazine, June 15, 2020
"We're fighting to demilitarize schools and winning. Just this week, we've seen three school districts cancel contracts with local police in order to use that money to address the critical needs of today's students. That's progress."
— Monifa Bandele, MomsRising Senior Vice President
---