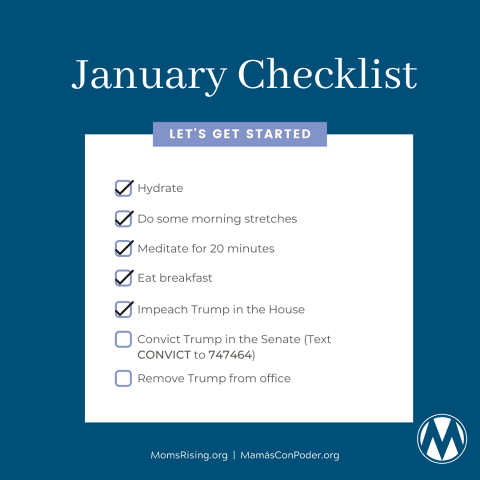 Review the Week: What's on Your Checklist? [Jan. 15, 2021]
ICYMI: One theme ran through each of these popular MomsRising posts for the week ending Jan. 15, 2021. We must do the difficult things to right the ship. 
---
Many parents have lists to help organize time and resources...groceries, household to-do's, birthdays and anniversaries, etc.
MomsRising members have a special kind of list, and it looks something like this.
LET'S GET STARTED: January Checklist
---
This post hit a nerve. 
DOUBLE TAP IF YOU AGREE: Remove the Mofo! 
---
Member Daniella Knight shares her thoughts about the way forward after Trump's tumultous and disastrous presidency. 
"Our Country is facing a set of challenges rivaling the Great Depression, and our very survival depends on our ability to unify...But, this will not be possible if we don't properly address the events of January 6th, and the conditions which made it possible."
READ IT: A Foundation of Accountability