Rep. DeLauro for #DoubleBooked: It's Time for Paid Leave
Rep. Rosa DeLauro represents the Third District of Connecticut and serves as Senior Democrat on the Labor, Health and Human Services, and Education Appropriations Subcommittee. She has been cancer-free for 28 years.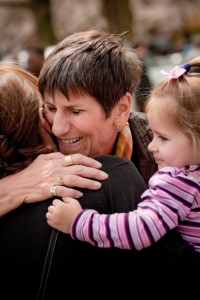 In 1986, I received news that no woman wants to hear: I had ovarian cancer. Fortunately, my doctors had discovered it by chance at its earliest stage. But to beat the disease, I would have to undergo treatment for several months.
At the time, I was Chief of Staff to Senator Chris Dodd – a tough but rewarding job with long days and not much down time. When I told him about my diagnosis, he said: "Rosa, take all the time you need to get better. Your job will be here when you get back." And so, without having to worry about my job or paycheck, I underwent radiation treatment for two-and-a-half months. I have been cancer-free ever since.
I was lucky. If my cancer had not been found early, I might not be here today – which is why I pushed hard to get free physicals and cancer screenings included in the Affordable Care Act. And if Senator Dodd had not let me take time off to get well, I could have gone without pay for months, because of my diagnosis.
But Senator Dodd understood the importance of job security and medical leave. That same year, he introduced the Family and Medical Leave Act in the Senate, giving workers all over America access to unpaid leave to take care of themselves and their families. After two presidential vetoes, FMLA became law in 1993. It was the first law signed by President Clinton, and the first public policy in our history to reflect the changing nature of working families, the way families live today.
Twenty-one years later, FMLA has been used over 100 million times by workers, and nine out of ten employers say the Act has had either a positive or neutral effect on their productivity and growth. But FMLA was always conceived as a first step. FMLA leave is unpaid leave, and even now, as many as eight out of ten eligible workers cannot afford to take it. Across the country, only 12% of workers have access to paid family leave through their employers, and fewer than 40% have access to paid medical leave for serious illnesses.
Being a working parent should not mean choosing between your job and your health and family. American workers should have access to paid leave – something every other advanced economy, and virtually every other nation in the world, already provides. President Kennedy's Commission on the Status of Women called for paid maternity leave over fifty years ago and we still don't have it!
Senator Kirsten Gillibrand and I have introduced the FAMILY Act, which gives every worker in America access to paid leave through a national insurance fund, similar to what is already working in California, New Jersey, and Rhode Island. Supported by employee and employer payroll contributions of just two-tenths of a percent of a worker's wage each, this fund ensures all eligible employees up to 12 weeks of partial income if they need to take time off due to sickness, pregnancy, childbirth or adoption; injury or sickness to a parent, spouse, or child; or injury to a family member in the military.
This bill is part of a comprehensive economic agenda for families that I have put forward with my Democratic colleagues. Because for women to succeed, for America to succeed, we need policies that reflect the way families live and work today, and that give women the opportunity to earn equal pay and create better lives for themselves and their families.  Paid leave is a crucial piece of this puzzle.
28 years ago, I was lucky I did not have to worry about losing my job or going broke because I was diagnosed with cancer. But nobody should have to rely on luck. Paid leave is a common-sense, cost-effective, and long-overdue reform that will do a world of good for workers and families. It is time to make it happen.
This blog originally appeared on February 19, 2014 as part of the Religious Action Center's blog series "Double Booked: A Conversation about Working Families in the 21st Century." Double Booked deals with the many issues that affect working families, and features everything from personal stories to policy analysis. Visit the Double Booked portal to read more posts, or join the conversation on Twitter and Facebook with the hashtag #doublebooked.