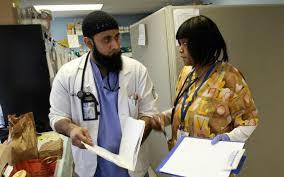 Reimagining Muslim Spaces
Faith and religious expression occupy a unique space in American culture. We have accepted, for the most part, that overt religious expressions are only part of what defines any one individual or community. We allow nuance such that Christmas caroling and bar mitzvahs and Holi festivals can be enjoyed by all. Muslim Americans have featured prominently in this American dialogue, yet it is often within a very narrow bandwidth that only allows for discussion of religious law (on which most Muslims are not scholars) or head coverings (which a large portion of Muslim women do not wear). The day-to-day lives of American Muslims and the ways in which we contribute to society, both in the extraordinary and the mundane, are often overlooked. In this blog I hope to bring more color to the discussion surrounding the American Muslim community and add to the vibrancy of our American dialogue.
With an operating budget of just $200,000, the HUDA Clinic has been providing free and low-cost primary care, dental, ophthalmological, podiatry and mental health services to those who are uninsured or underinsured. At the core of their mission is wellness - they seek to provide medical services not just to treat symptoms but also to address core problems with their patients to create healthier communities. When the Clinic's uninsured population declined under the Affordable Care Act implemented by the Obama administration, they continued to see insured patients whose coverage didn't extend to all their healthcare needs. Their willingness to adapt to the needs of their community is a large part of what has made them so vital and so successful.
The ACA successfully reduced the number of uninsured Americans by:
providing subsidies for households with incomes between 100% and 400% of the federal poverty level and 
expanding the Medicaid program to cover all adults with income below 138% of the federal poverty level. 
However, the law was never fully implemented as states such as Texas successful sued the Obama administration to block Medicaid expansion programs. This left millions unable to access insurance without the Medicaid expansion; it left millions more underinsured - forced to purchase low-cost insurance that didn't fully meet their needs.
The HUDA Clinic has been able to provide coverage to those caught in this gap, a gap that will mostly widen as the Trump administration has promised to continue working on repealing the ACA. While a recent Congressional effort to repeal the ACA was not successful, the administration does control payment of subsidies that lower the costs of health insurance premiums to low income households. Without the subsidies, millions of people will not be able to afford their insurance payments. 
What is clear from the ongoing debate about the ACA is that the Muslim community has an important role to play in addressing the healthcare needs of our nation, and in order to do so, it is critical that Muslims continue to build upon their platform of social justice advocacy to engage in health policy advocacy, in addition to continuing the direct service delivery work as exemplified by the HUDA Clinic.