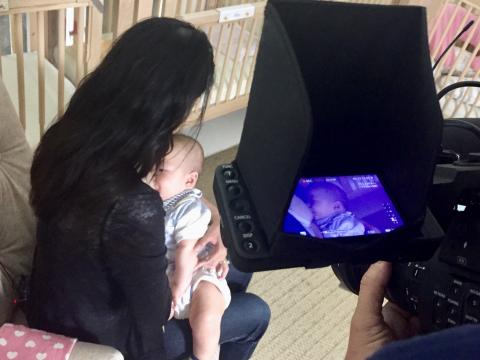 Recognizing "Breastfeeding, Foundation of Life" in Early Education
It is World Breastfeeding Week! The slogan of World Breastfeeding Week 2018 is "Foundation of Life". And just recently, my 7-month-old and I had an exciting opportunity that reflects the #WBW2018 slogan: to participate in the production of a series of Breastfeeding-Friendly Child Care Training videos. The series of videos is to help train child care facilities on how to be breastfeeding friendly.
I was so grateful for this opportunity. As a nursing mother, I am not only open and willing to, but do consider it's absolutely important to support this kind of projects. Because they recognize the value of normalizing breastfeeding for families who choose this first food for their babies and help removing barriers in different workplace arenas.
The project we participated in was part of the Breastfeeding-Friendly San Diego (BFSD) program. UC San Diego Center for Community Health, a partner of San Diego County Breastfeeding Coalition (SDCBC), produced four professionally filmed training videos on how childcare providers can support breastfeeding families.
So why should home care or day care center support breastfeeding?
Because breastfeeding helps kids by providing protection from infection, obesity and SIDS. 
Because breastfed babies are easier to care for. They are less prone to spitting up, are sick less often, and are less likely to have constipation or diarrhea. In addition, their diapers have less odor. 
Because breastfeeding helps the day care financially. Meals containing breastmilk are reimbursed by Child and Adult Care Food Program(CACFP). 
Because Breastfeeding helps marketing the day care. The Breastfeeding Friendly recognition can be used in advertisements of the program. 
And what investments that childcare providers can make to become breastfeeding-friendly?
Created a breastfeeding-friendly environment where mothers are encouraged to breastfeed onsite, and where families and employees are provided a non-restroom space to breastfeed or pump. 
Provided individual or employee training to support breastfeeding such that all providers and employees are trained on breastfeeding-friendly practices that include: benefits of breastfeeding, handling/storing/feeding breast milk, creating a breastfeeding supportive environment, policy/procedure development and implementation, and parent engagement and support. 
Implemented proper storage, handling and feeding of breast milk by providing refrigerator and freezer space for storage of breast milk, instructing breastfeeding families on how to properly label and store breast milk, and creating individualized feeding plans for every infant under 18 months. 
Adopted written policies supporting breastfeeding families and employees by explicitly communicating support in written form for breastfeeding families and employees, and by giving breastfeeding employees the appropriate break time to breastfeed or pump. 
Offered breastfeeding resources for families and employees by sharing breastfeeding information from local and online resources. 
One thing I love about breastfeeding friendly day care is that they normalize breastfeeding in front of our youngest learners. It makes perfect sense that California Infant Feeding Guide encourages promotion of breastfeeding in the child care setting. This week, please join me and thank your child care center or family day care home if they've been supporting breastfeeding families.
Read more: Caring for Our Children: National Health and Safety Performance Standards; Guidelines for Early Care and Education Programs; 3rd Edition (2011) 
*This post originally puslished on San Diego County Breastfeeding Coalition's newsletter on August 1st, 2018. This is a slightly edited version. Photo credit to Melissa Cabral.