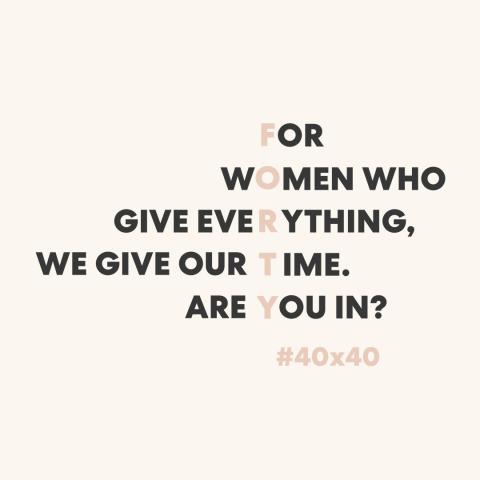 Quick Ways to Support Women Reentering the Workforce (40x40)
When we got the news about Meghan, The Duchess of Sussex, turning 40 and celebrating with this 40x40 campaign we were thrilled! Mentoring and supporting women that are going back into the workforce? Don't mind if we do!
"When we support one another, amazing things can happen."
Check out Meghan's video with Melissa McCarthy announcing the campaign.
Whether you only have 2 minutes (don't think 2 minutes is long? Try planking for that time), 10 minutes or 40. Here are a few ways that you can support right now, from wherever you are! 
2 At a Time:
These petitions support women returning to the workforce. They should take about 2 minutes (we're counting reading time here) and your signature will go a LONG way in supporting women and families in the workforce.
10 for Telling:
Nothing is more powerful than our lived experiences. Time and again, we hear directly from policy makers about how your stories moved them and brought the perspective they needed in order to change policies that benefit our communities. Take 10 minutes to share your story with us and we will ensure they make it to the hands of the people that can affect change.
40 for Fams:
Got a little more time? Check out the Care Can't Wait Bus Tour that's hitting the road to ensure women and families get the care infrastructure they deserve.
August 4
August 5
August 6
August 9
August 10
August 12
August 13
The possibilities with this 40x40 are endless. Tell us, how can you support/mentor a woman reentering the workforce? Drop a comment below and don't forget to share on social using #40x40 and #CompassionInAction! And learn more on the Archewell Foundation site.