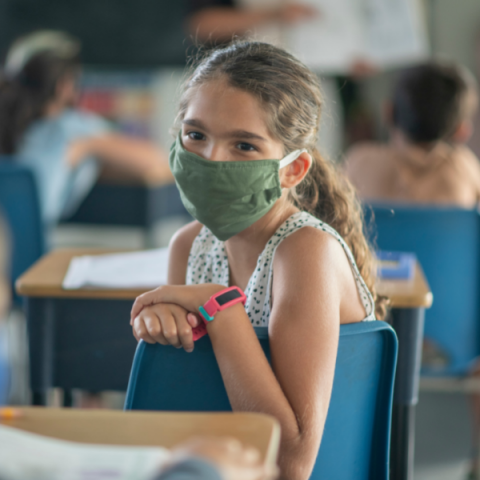 Quick signature: To protect schoolchildren from COVID-19
"I thought we were dodging the bullet, almost 2 weeks in and as I perused the COVID dashboard for my county. No COVID cases at my daughter's school. I let out a sigh of relief. And then, one call, two calls, a call that it was someone in one of her classes. The message told me that someone from the department of health would call for contact tracing if needed. No mention of the fact that the department of health in my county is behind on contact tracing due to the overwhelming uptick in positive cases we are seeing in Florida." 
At this moment, the Delta variant is sickening an unprecedented number of children, pediatric ICU beds are filling up, and schools are opening for the fall. There has been a patchwork of different approaches to protect kids during this back-to-school season and some governors have been taking mind-boggling actions to block and intimidate local school officials from requiring masks to slow the spread of COVID-19.
**Quick signature: Add your name in support of the Biden Administration using its authority against governors who are blocking local school officials from preventing the spread of COVID-19 in their schools.
What's happening? While parents across the country are adding masks to their back-to-school supplies list to protect their kids (and others' kids!) from contracting COVID-19, Republican governors in at least eight states are actually BANNING school districts from requiring masks. This is contrary to public health guidance from the Centers for Disease Control and Prevention and pediatric hospitals are overflowing with COVID patients!
President Biden announced last week that he would not stand by and allow governors to prevent local school districts from protecting their students with mask mandates while cases of COVID-19 are skyrocketing. He is directing Secretary of Education, Miguel Cardona, to "assess all available tools" against states banning sensible safety measures to protect students' health while at in-person school—which could be a civil rights violation.
Over a year and a half into this pandemic, we know what public safety measures can stem the spread of COVID-19. Our leaders should be doing what they can to protect the health of our children and keep them in school. The American Academy of Pediatrics outlined what we can all do to make sending our kids back to school as safe as possible: vaccination, universal mask use, ventilation, testing, quarantining, and cleaning and disinfecting. It is irresponsible for school officials not to take these steps and for governors or other politicians to stand in their way.
Don't forget to sign on! Add your name to our letter of support to the Biden Administration for taking action to protect schoolchildren from COVID-19.
Want to take local action? We know a lot of parents are feeling helpless and frustrated, so we're here to help you turn that frustration into action. You can find three meaningful actions you can take RIGHT NOW at a local level here.