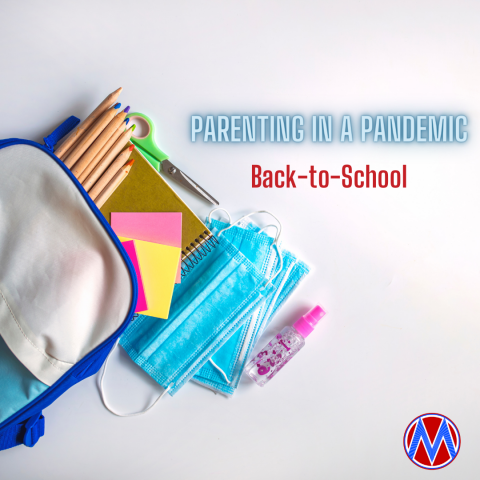 Back-to-School, Stressed and Exhausted. How Are You Parenting In This Pandemic?
As I perused the COVID dashboard for my county, almost 2 weeks into the school year, I thought we were dodging the bullet. No COVID cases at my daughter's school. I let out a sigh of relief. And then, one call, two calls, a call that it was someone in one of her classes. The message told me that someone from the department of health would call for contact tracing, if needed. No mention of the fact that the department of health in my county is behind on contact tracing due to the overwhelming uptick in positive cases we are seeing in Florida. 
(WFTV Channel 9, 08.19.2021)
I sent an email to the school after a 2nd student in one of her classes tested positive. It was returned with the necessary platitudes and a reminder to read the 24-page, COVID-19 Health and Safety Procedures Manual as well as a reminder that I could keep my child at home but she would be marked absent and digital learning is off the table, outside of access to some of the coursework. In my email I mentioned understanding the position the school was in. How impossibly difficult this all seems. How did they do it last year? Last year they had a little over half of the students back in the classroom. Vaccinations were on the rise and mask mandates were still in place. 
Imagine the feeling when I received a message, six days after that first notice, that my child should've been quarantined because she, indeed, was in contact with the person that tested positive. Imagine receiving that message on the day that my daughter was cleared to return to school. I never received a letter or a call from the department of health up until it came as an attachment to the notification from the school.
I'm grateful to the teachers and administrators for all that they are doing. For the hard work they are putting in, for putting their health and lives on the line even as the number of teachers testing positive also rises. But, something is not working here. Something in this system is broken. And we are putting our teachers and administrators (not to mention our children and families) through the ringer when we need to address this at the source. We are pouring water into a basket and then dying of thirst when it's time to drink.
The day-to-day decision making is exhausting at best.
What am I supposed to do?
Do I keep my daughter home?
She's acclimating to the new school, to the 7 different classes, to music and digital art. She has a bounce in her step again. I know she has missed the interactions.
What would it look like if I kept her home?
If I homeschooled or signed her up for virtual classes (even though I think this deadline has passed for us and many others in other counties and states)?
How am I going to support this new, very different world of multiple classes if we go online while also juggling a demanding, full-time job? We barely made it through the last year! 
What am I supposed to do?
How do I decide?
When do I pull the trigger?
What is best for her? What is best for me? What is best for us, as a family?
The questions monologue goes on and on. Truth is, I don't have an answer at the moment. 
I'm writing this out of a feeling of helplessness that bubbled up as I spoke with my colleague, Tina and exchanged questions, anxieties, worries and our joint concern: I wonder how everyone else is holding up?
Our stories are important to us. We know our stories connect us and we felt a little better after we spoke even though we didn't have firm answers or a plan of action for what we do  next at home. We hope by sharing your story, by reading others thoughts along with ours and seeing their pins on the map, you won't feel so alone. Perhaps as we begin to realize we aren't alone, we can pivot and start to think about what we can do, together.
Wait, I thought you said you didn't know what to do?
Is that what you're thinking? It's a good question. This issue is beyond the individual school districts. In my state of Florida, Governor DeSantis issued an executive order banning school districts from making masks mandatory. Meanwhile, looking at the number of infections in my county last year when masks were mandatory gives a clear indication that they worked. But the governor is more interested in figuring out how to withhold pay from the local leaders that are hell bent on protecting our children's lives and defying his orders than asking his constituency, and permitting schools, to stay masked up a little longer, given the rising number of cases in the state. As of the writing of this text, we have logged in 42,143 COVID-19 cases and 726 deaths in two days in this state.
So, let's start there. Let's support the local governments that want to institute mandatory mask mandates to help flatten the return of the curve and keep our children in school. We can do that by supporting the Biden administration and encouraging them to use the federal civil rights office to deter states from banning universal masking in classrooms. And once we finally start to emerge from the global pandemic, let's ensure we have access to paid family and medical leave, and childcare so women and caregivers are able to get back to work! 
As always, we want to hear your story. We want to know where you're located and how you and your family are being affected as the kids return to school. Any tips you can offer? Any words of encouragement? We are in this together and hearing from our community can help us during difficult times. We have proven that before, let's keep doing it. Go on, pin yourself on the map.
If you're looking to do a little more, you can check out this blog to find three meaningful actions you can take to protect kids from COVID-19 during back-to-school.
I hope this has helped. That you, your family and your community are safe and that, despite the rough start to the school year, we can ease into a good and healthy one.