Take Action!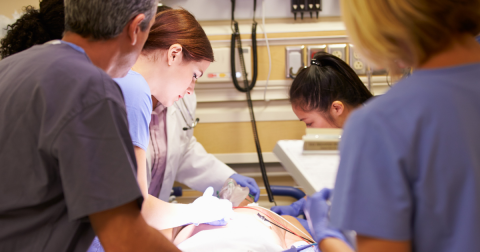 QUICK SIGNATURE: Stand with our nurses!
I come from a long line of nurses: my grandma is a nurse, my mom is a nurse, my aunts are nurses, and so are my cousins. These women work hard every day to provide outstanding care for premature babies, new parents recovering from childbirth, and patients fighting for their lives in the emergency room. 
Click here to stand in support of nurses, frontline hospital staff, and the patients who depend on them by demanding the State Senate pass HB 1155 requiring meal and rest breaks for frontline healthcare workers.
Anyone who has been in the hospital knows that nurses are at the core of patient care. But here in Washington, nurses and other frontline healthcare workers are being forced to the brink with no meal or rest breaks during long, grueling shifts. This not only hurts nurses, it puts patient care at risk. 
Click here to tell state lawmakers that moms, dads, and parents stand with nurses and support mandatory meal and rest breaks for healthcare workers.
We count on nurses and healthcare staff to take care of us at our times of greatest need and greatest vulnerability. But how can they do that when hospitals are systemically understaffing departments and forcing nurses and healthcare staff to work through breaks?
Luckily, there's an opportunity to change this. Momentum is growing for HB 1155, a bipartisan bill addressing chronic and dangerous fatigue being experienced by nurses and other hospital caregivers, who are predominantly women. The bill requires hospitals to provide frontline caregivers, like nurses, certified nursing assistants and hospital technicians, with uninterrupted breaks during their long shifts of 10, 12, or more hours. The policy also closes a loophole to stop hospitals from requiring mandatory overtime for healthcare workers. 
Click here to send a quick message to your State Senator and ask them to sign on in support of mandatory meal and rest breaks for nurses and other frontline caregivers.
As the State Legislature considers whether or not to pass this bill, it's important that legislators are hearing from people who have depended on the care of nurses and frontline healthcare staff. Whether you are a healthcare worker or someone who has benefitted from the care of nurses and nursing staff, state lawmakers need to hear that you are in support of HB 1155! 
To be clear, this issue isn't just about patient care, it's also about inequitable standards for women-dominated industries. As Representative Marcus Riccelli recently said in the Spokesman Review: 
"There's a lot of other professions that do this. It's interesting that we're talking about this in a female-dominated profession, but when it comes to things like pilots, everybody gets it."
Frontline medical staff working long shifts need meal and rest breaks -- it is common sense, plain and simple. Click here to send your State Senator a quick message of support for HB 1155.
Dawn, a Washington nurse, shared her personal story of trying to manage her gestational diabetes diagnosis without regular meal or rest breaks: 
"I was diagnosed with gestational diabetes while pregnant with my second child. I was responsible for checking my sugar levels prior to meals and at bedtime and would send them weekly. As a nurse I knew how important stable blood sugars were to having a healthy baby, but as it was the winter season when our census is historically high often times we didn't get breaks or if we did we were interrupted many times for patient needs. As a result of difficulty taking rest breaks my blood sugars, when I could check them, were consistently low. 
My physician made the decision to remove me from my work environment a month before my due date as she deemed it an unsafe environment for managing my diagnosis." 
This is unacceptable. Hospitals shouldn't be a dangerous place to work for expecting parents. Click here to send your State Senator a message asking them to stand with nurses, frontline healthcare staff, and patients by passing HB 1155.
Dawn went on to say:
"It is unsafe for patients to have a nurse who has only had a few minutes here and there to take a break. It is more difficult to think critically and catch mistakes, the majority of which are caught by nurses not physicians. Please put an end to the belief that nurses for some reason do not deserve uninterrupted rest breaks as they are beneficial to the nurses, our patients and our community."
Back Dawn up and send a message to your State Senator urging them to pass this bill immediately. It is common-sense, pure and simple, and it will save lives.