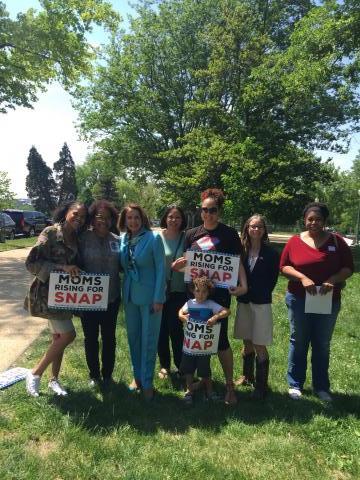 QUICK SIGNATURE NEEDED to protect food stamps!
Every once in awhile something uplifting and amazing happens in Washington, D.C.— and when that special something happens, it's likely because moms, dads, and concerned people like YOU have spoken out!
That's what's currently happening with the piece of policy (the Farm Bill) that funds and legislates important nutrition assistance programs like SNAP (or food stamps). We had a victory in June when the U.S. Senate passed a bi-partisan Farm Bill that protects SNAP.
We need YOU to help us keep this momentum going!
***SIGN our letter to the U.S. Congress now asking them to protect SNAP in the Farm Bill!
Here's what's going on:
The good: The U.S. Senate heard your outcry against any harmful changes to food stamps, and voted to protect SNAP in their version of the Farm Bill. On top of that, Republicans and Democrats are still standing firm on their commitment to protect SNAP as the Farm Bill moves forward in conference committee. That type of bi-partisan commitment is not seen very often these days, and it's because of people like you who have written, called, shared your stories, and spoken out on the importance of SNAP to our families and our economy that has urged Senators in this direction.
The bad: Things are totally different on the House of Representatives' side. The House GOP leadership refused to listen to moms, dads, and other constituents who spoke out against their destructive Farm Bill, which takes away SNAP from millions of families and enforces strict work requirements. Despite the fact that the Farm Bill was defeated on the floor of the U.S. House in May, they scheduled a revote of the bill in early summer, which passed by a narrow margin.
The hopeful: Because the House and Senate versions of the Farm Bill are so completely different, they are going to a Conference Committee to work out the differences. Even though President Trump is putting the pressure on Republicans (through Twitter of course!) to pass the horrible, terrible, and unnecessary work requirements, so far the Senators on the Conference Committee are standing strong and saying they will not accept any bill that has
additional barrier to access, especially in the form of work requirements. (Note: work requirements already exist in SNAP for some recipients. What's being newly proposed though will fundamentally change this vital food assistance program forever and would be truly harmful to millions of families, not to mention our economy).
We need you to continue to speak out and keep the pressure on our members of Congress so when they get back in September from their summer recess, they will move on a Farm Bill that protects our families and the programs that assist them in their time of need, like SNAP.
***Join us in speaking out by adding your signature to our letter to the U.S. Congress on SNAP and asking them to support the Senate-version of the Farm Bill!
SNAP is a major lifeline to millions of families around the country. In fact, SNAP helps 1 in 8 Americans across the country afford groceries, including the 1 in 4 children who live in food insecure households. SNAP also lifts up families in communities across the U.S.: 36% of SNAP recipients are white, 25% are Black, 17% are Hispanic, and 3% are Asian. Families using SNAP live in every district in the United States, so our elected leaders have no excuse to not speak up for their very own constituents.
And perhaps most important to know right now is the fact that the majority of SNAP recipients already work! Fact: Most adults on SNAP work. More than half of SNAP households with at least one working-age, non-disabled adult work while receiving SNAP — and more than 80 percent work in the year before or after receiving SNAP. Among those who are not working, most report illness or disability, caregiving responsibilities, being recently divorced or escaping an abusive relationship, or going to school as a reason for not working.
We don't need harmful and unnecessary work requirements in SNAP. We need policies that boost our families and our economy during difficult times!
Help us keep the momentum going so struggling families get the nutrition assistance they need!
***Sign our letter to the U.S. Congress telling them to support SNAP and the Senate Farm Bill!
We are going to deliver your letter to Congress the first week in September when they return from their summer break and we want to make as big an impact as possible. After you sign our letter, please forward this blog to your friends and family and post our action link to Facebook so we can collect as many signatures as possible.
Thank you for being a powerful voice for our families and economy!
P.S. Your stories are part of the reason we have been so successful in protecting SNAP! MomsRising is launching a new storytelling series called We Are MomsRising, where we will be telling stories about how programs (like SNAP) help working families and the realities of being a mom in 2018—the good, the bad, and the hilarious! Check out one of our first stories by Alabama mom Heather about how her family was lifted up by SNAP during a difficult time. Do you want to be part of this exciting new project? Awesome! You can share your story here.