Take Action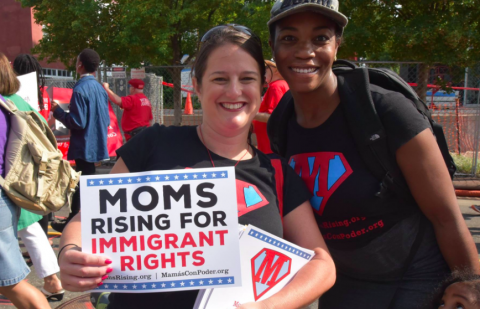 QUICK SIGN: DACA Recipients Need a Pathway to Citizenship!
It's officially time to celebrate the nine-year anniversary since Deferred Action for Childhood Arrivals (DACA) came to life!
This program has helped thousands of Dreamers who came here as children and have grown up in our communities remain in the U.S. lawfully. With DACA, young people have been able to go to school, get drivers licenses, work, and continue to contribute to communities across the nation. Many DACA recipients don't know any home but here.
However, the DACA program is only a temporary bandaid and it's been a political rollercoaster to keep it in place! 
Celebrate the nine-year anniversary of DACA by telling Congress to give Dreamers a real pathway to citizenship!
What's happening? 
Right now, the DACA program is being harmfully challenged in Texas' federal courts, which could impact the program nationwide. So Congress must take action now to protect DACA recipients, essential workers, and TPS holders by providing them with a pathway to citizenship in the next infrastructure and recovery package. 
Sign on! Tell every member of Congress to include a pathway to citizenship in the next infrastructure & recovery package! 
Immigrants have made up nearly 23 million essential workers [1] on the frontlines during COVID, and 5.2 million are undocumented. One million of those essential workers working to save us throughout the pandemic are Dreamers. 
Immigrants are a vital part of our country's essential workforce and have done heroic work throughout the pandemic, keeping children and families healthy and saving lives. We rely on our immigrant families, friends, and neighbors every day, including for child care, health care, long-term care, and to keep our food supply chain and our entire economy running. For example, immigrants are 28 percent of our physicians, and 38 percent of our home health aides. [2]
The skills, talents and contributions of immigrants are needed to keep our country functioning, and to build the care infrastructure that our families, communities and our economy so urgently need for parents to return to work. 
But without a path to citizenship, we cannot create good jobs in the care economy, which has a workforce dominated by women. That's why Congress must create a clear path to citizenship for essential workers, Dreamers and TPS holders in the next infrastructure and recovery package. 
We know immigrants make our country stronger and more prosperous.
Don't forget to add your name! 
Together we are a powerful voice for the well-being of immigrant children and parents. 
[1] FWD.us: Estimates Show Immigrant Essential Workers are Crucial to America's COVID-19 Recovery 
[2] Migration Policy Institute: Immigrant Health-Care Workers in the United States