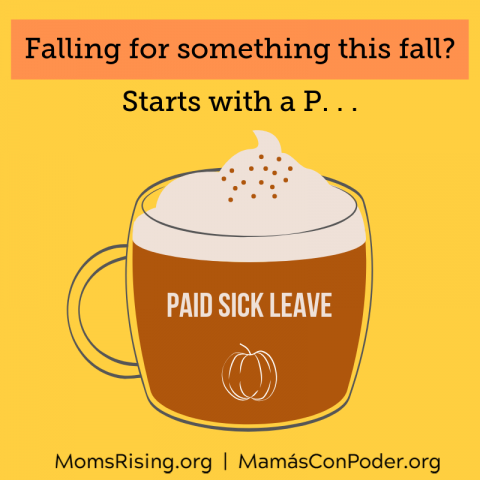 Pumpkin Spice and Something Nice...
The leaves are turning, sweaters are out, and pumpkin-flavored you-name-it is here. I love fall, but I don't love everything about fall. Three words: sneezy does it.
That's right. It's flu season. Every single year, the United States experiences seasonal flu epidemics. But before you start stocking up on tissues and reviewing proper hand washing techniques with your kids, take a quick second to do something else to help stop the flu and other wintertime viruses in their tracks.
--> Ask your members of Congress to act quickly to pass the Healthy Families Act and do one of the best things possible to curb the spread of cold and flu bugs this season!
The Healthy Families Act is historic legislation that would allow workers in businesses with 15 or more employees to earn up to seven job-protected paid sick days each year to be used to recover from their own illnesses, access preventive care, provide care to a sick family member, or attend school meetings related to a child's health condition or disability. Workers in businesses with fewer than 15 employees would earn up to seven job-protected unpaid sick days each year to be used for the same reasons, unless their employers choose to offer paid sick days.
There is huge momentum for the Healthy Families Act! The bill has more co-sponsors in Congress than ever before. Now is the time to turbo-boost this legislation with some serious MOMentum! Together, we can get this done.
The cold (and getting colder!) hard truth is that 32 million private sector workers can't earn a single paid sick day for themselves or to keep a sick kid home from school to get better. As if that weren't already bad enough, every time you order a cup of coffee, there's an 81% chance that the food service worker who made your cup of coffee can't take a single paid sick day. That really puts a damper on the pumpkin spice you-know-what fanfare!
Latte jokes aside, paid sick days are a pressing economic security issue for millions of American families. For an average family without paid sick days, just 3.5 days of missed work because of illness can mean losing an entire month's grocery budget.
Tell Congress: the Healthy Families Act is good for the health of our families, economic security, businesses, and national economy! We needed paid sick days LAST flu season. Let's not go another year without them.
Paid sick days are a big win for businesses because they reduce turnover cost, boost workplace morale, and help stop the spread of illness among workers. 
And get ready for this one: employees coming to work sick because they don't have access to paid sick days costs the national economy $160 billion annually because of lost productivity. It's no wonder so many businesses support paid sick days. 
In the name of booting families, businesses, and the economy, urge Congress to support paid sick days and pass the Healthy Families Act!
We're building off unprecedented support for paid sick days across the nation. Twenty three jurisdictions (cities and counties) and ten states have already passed paid sick days for their residents and workers! But access to paid sick days shouldn't depend on your zip code – we need a national paid sick days standard!
We're the only developed nation in the world without a national paid sick days law and we need to change that. Together, we can make it happen. Your voice is powerful and we need it more than ever right now. Moms and those who love them know best and when thousands of our voices join together in support of paid sick days, Congress won't be able to ignore us!
Together, we're a powerful force for women and families.
P.S. Do you have a personal story about paid sick days—how they've helped your family or how you've struggled without them? CLICK HERE to easily share your story and we'll deliver it to Congress so they know how important paid sick days are for hardworking families.