Protecting Our Kids from Toxic Chemicals - CT is on the Brink of a Big Step
I remember very clearly the day I first learned that the vast majority of chemicals used in consumer products are unregulated by the government. Until that point I believed (as many people mistakenly do) that if I could buy it in a store it must have passed safety testing. Boy was I wrong. Out of the nearly 80,000 synthetic chemicals in commerce, less that 5% have ever undergone testing. Needless to say, that very day I cleared out my shampoo, body lotion and makeup for safer alternatives I found using the Skin Deep database.
Then I got pregnant with my first child. When I was pregnant I did everything within my power to not expose my growing baby to environmental toxins. I didn't dye my hair, ate a healthy diet and used safer skin care products. Many of the toxins in our products have the ability to cross the placenta and I was scared that I might harm my daughter as she grew inside my body. What I discovered (which was equally as scary) was that even if I was incredibly diligent, I could never completely ensure that I wasn't exposing myself and my soon-to-be-born daughter to toxic chemicals. Why? Because companies aren't required to list all the ingredients on the label and because a lot of the packaging that holds our products (like baby formula and canned foods) contains toxic chemicals too. And if companies aren't telling us what chemicals are IN their products, they certainly aren't telling us what chemicals are in the packaging AROUND our products.
Now that my daughter is almost two, my husband and I continue to do our best to keep her exposure to toxic chemicals as low as possible. But you know what? It's hard. We have no idea what chemicals were used to create our daughters favorite stuffed animal. You know, the one she puts in her mouth, can't sleep without and is attached to 24 hours a day. Heck we have no idea what chemicals are used in the vast majority of the toys she plays with and that really frightens us. She's the love of our lives and we want to protect her from harm as much as possible.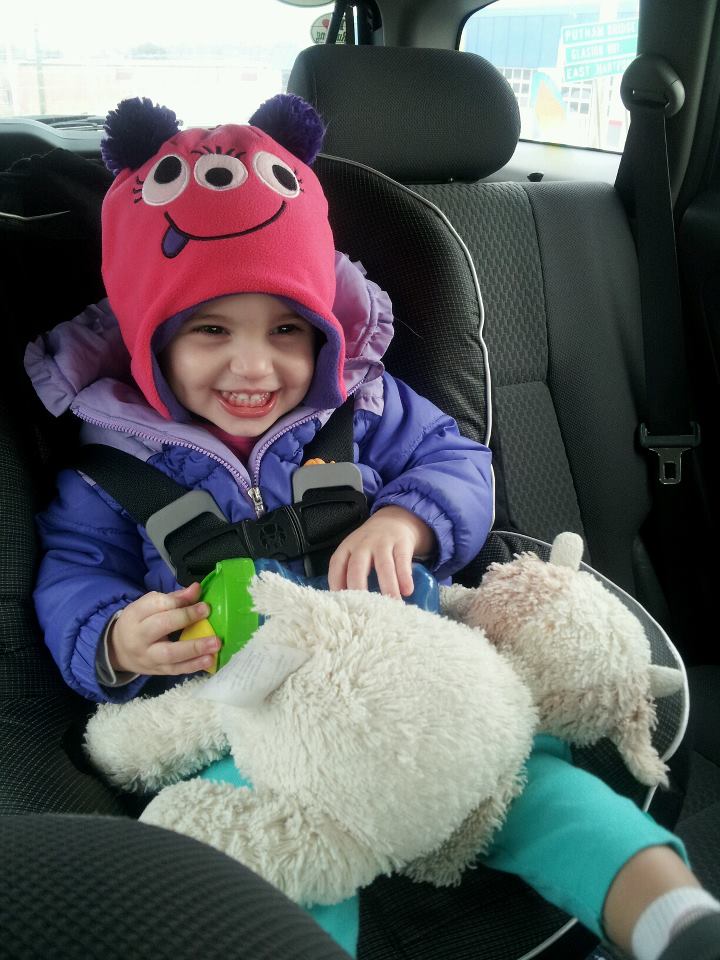 Here's my daughter, with her BFF, Mr. Cow (original, I know).
I am fortunate to live in Connecticut, a state that has already banned chemicals such as BPA and cadmium from certain children's products. However, we really need a more comprehensive approach to this problem. This legislative session the chairs of the Children's Committee introduced a bill that would do just that, H.B. 6526, AAC Toxics Disclosure and Innovation for Healthy Children.
This bill would require that the Department of Public Health create a list of chemicals of high concern to children (that includes chemicals that are in products geared towards pregnant women) and would require manufactures to report if they are using the identified chemicals. Then, over time, manufactures would have to create a plan to either phase out these chemicals or move towards a safer alternative.
I really applaud the committee (and the Coalition for a Safe & Healthy CT) for bringing this bill forward. It has already had a public hearing where there was a huge showing of support and now its got to make its way through a few committee votes, through the House & Senate and then needs to be signed by the Governor.
Here's the truth – even if every product was labeled, it shouldn't be on the consumer to figure out what's toxic and what isn't. The responsibility should be with the companies that manufacture products to not use toxic chemicals in the first place. Connecticut's bill is a big step in the right direction towards ensuring that our children are free to grow up healthy and that moms, like me, can feel confident buying products for their families.
Michelle Noehren is the Events & Special Projects Director at the Connecticut Permanent Commission on the Status of Women and is the founder of CTWorkingMoms.com, an online community for working moms.