We Are MomsRising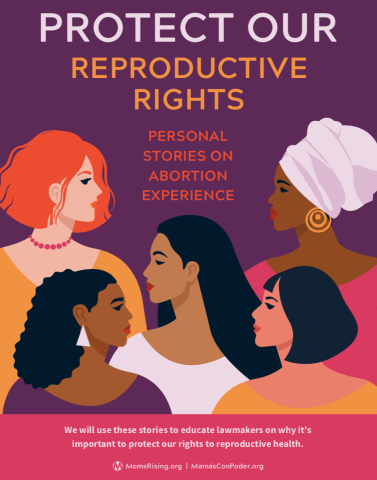 Protect Our Reproductive Rights: MomsRising Members Share Their Personal Stories on Abortion Experiences
What is Reproductive Justice?
Bodily autonomy. Fair treatment. Attainable and affordable healthcare access.
What many people don't know is that most women who have abortions are already moms, and being able to manage how many children women have and don't have is nothing short of revolutionary. Having authority over what we do with our bodies is not limited to our reproductive rights but has helped to narrow the gender pay gap, improved the health of women and their families, and led women toward access to increased economic and political power. We have collected stories from real people about their experiences with our reproductive health care system. Below you will find our storybook about MomsRising members and their  personal experiences with reproductive health. Included in the storybook are statistics, articles, information of policy like the Women's Health Protection Act, ways you can take action! 
Click Here to Download the Storybook
P.S. Check out this blog about all of the recent SCOTUS decisions and legislative actions affecting abortion care and reproductive justice.