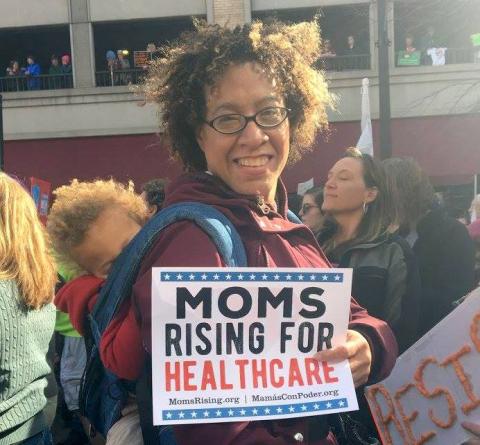 Protect Access to Health Care & SNAP by Visiting Your Members of Congress
It's an emergency! Your voice is needed — and is powerful! Sign up to drop by your members of Congress' office(s) to drop off, or share, important materials on health care and SNAP (food stamps). We'll send you everything you need for a successful visit!
Sign up here: http://action.momsrising.org/signup/june-healthcare-snap-visits/
#ProTips To Get Ready For Your Drop Off
*Instructions: You can either print some of the below materials and drop them off at the local office of your member of Congress, or call up and set a meeting to deliver the materials personally to a member of their staff or to the member of Congress. Either way you'll have a big impact. Here's how you start:
Contact your members of Congress' offices ahead of time to find out when they're open (you can drop by or ask for an appt). Here is where you can find contact info for your members of Congress, including local addresses:
Read our blog with do's and don't's about talking with lawmakers (same rules apply whether you're attending a town hall or dropping by your members of Congress' office). 
Print Materials for Your Visit
There is a LOT to be concerned about right now with proposals of massive cuts and roll backs to health care coverage and SNAP benefits. Here are some handy resources you can print out to bring with you and/or give to your members of Congress.
*Instructions: Pick one or more of the below materials to print and bring with you:
Sample Questions
If you get a meeting with the member of Congress or their staff, then here are some sample questions for you. Remember, it's great to share your own story or personal connection to the issue, first! Here are some helpful sample questions:
Medicaid is a lifesaver for moms and kids across the country, covering nearly half of all births in our nation as well as other critical services. Rolling it—or the Affordable Care Act (ACA)—back would threaten the wellbeing of women, communities of color, people who live in rural areas, and all those who struggle to get health care coverage and care. Cuts to these healthcare programs would also hurt our economy. What will you do to ensure the Medicaid program is strong and available to everyone who needs it? And how will you protect and improve the ACA?
Over 40 million people rely on SNAP to put food on the table, especially children and elderly people. Will you commit to oppose any budget that includes harmful cuts to SNAP and other programs that help lift families out of poverty?
Want to learn more about the issues?
You don't need to be an expert to drop by your members of Congress' office. Facts and policy points only tell part of what's going on—it's the experiences of families and individuals that help make the issue real to elected officials and the public! And questions are important too! But if you're like me, you may want to read through some materials for backup. 
Please snap some photos and email them, along with a quick note on how the meeting went, to Felicia at felicia@momsrising.org. Thanks for all you do!