Progress on Toxics (Walmart and Procter and Gamble!)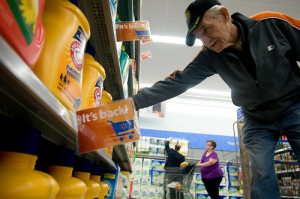 You want proof that online and offline activism works, and that regular American parents and consumers can make a difference in multi-billion dollar corporations? Just take a look at some of the public health successes that have come across our radar in the last week.
While we celebrate the good news below, we note that the federal government has failed to regulate toxic chemicals in our products, which is why we have turned to corporate leadership. With the Senate Environment and Public Works Committee now working on the Chemical Safety Improvement Act, we are hopeful that we can move forward on strong legislation to protect the health of our families from toxic chemicals. In the meantime, we look to corporations to take the lead and protect their customers from toxic chemicals known to cause harm.
We know that some retailers aren't strong on such issues like paid sick leave and LGBT rights that are important to many American families. Still, these retailers sell to millions of families, thus serving through the products they sell as primary pipelines for toxic chemicals.  If we could help make those pipelines smaller -- or even choke them off - that would be real progress!
Procter and Gamble to remove toxic chemicals (triclosan and phthalates) from all products:
Our friends at Women's Voices for the Earth announced that Procter and Gamble is removing triclosan and phthalates from all of their products by 2014. Brands include  Cover Girl, Tide, Crest and Ivory in this major victory for the public health. The chemicals will be removed from all cosmetics, household cleaners and fragranced products.
Walmart executives did this in response to growing concerns about the safety of these chemicals and pressure from environmental health groups and consumers, just like you. Your awareness, your advocacy and your voice did this. We thank Women's Voices for the Earth for taking the lead on this important issue!
Phthalates are commonly found in personal care products, perfumes, children's lunch boxes and backpacks, as well as building materials and they have been linked to birth defects, asthma, neurodevelopmental problems in newborns, fertility issues and obesity.  Triclosan is a chemical commonly added to products like toothpaste, antibacterial soaps, cleaning supplies, cosmetics, cutting boards and school supplies. It is known to cause hormone disruption.
Walmart Success: Phasing Out 1o Harmful Chemicals
Walmart this week unveiled their plan to limit toxic chemicals in their retail locations. The plan includes phasing out 10 hazardous chemicals from personal care, children's, cosmetics, and home cleaning products. In addition, Walmart will require that suppliers label these same chemicals before the planned phase out, starting in January 2015.
In addition, Walmart will work with their suppliers to move towards safer alternatives for replacement chemicals. Many times when one toxic chemical is phased out an equally toxic chemical replaces it. They will seek guidance from the Business NGO Workgroup on this process.
Importantly, Walmart's own brand cleaners will no longer contain toxic chemicals outlined by the EPA's Design for the Environment program. This is a serious commitment to making their cleaning products more healthy for consumers.
Walmart is starting with the chemicals they deem the highest priority, and they will reveal these later this week. This list is certain to make more waves and propel other retailers to act.
The media covered this story and indicated that consumer and environmental health groups pressured Walmart to take this first step to protect consumers from toxic chemicals.  This effort was led by our friends at Safer Chemicals, Healthy Families and The Campaign for Safe Cosmetics. They've led the charge in reaching out to Walmart via the Mind the Store Campaign and other efforts. News resources such as USA Today, The Huffington Post are reporting that Walmart is making these changes because of pressure from  consumer and environmental health advocates (read: all of us!).
Thanks to them for their leadership and to YOU for raising awareness and acting about toxic chemicals and the health of families everywhere.
See what we can do together? Everything from emails, calls, online actions, questions to Walmart and Proctor and Gamble-- it all made a difference and yielded results that will protect millions of people from needless exposure to chemicals in many consumer products.  Now, how about Target? Why not encourage them to respond as well and to develop a plan to protect customers from toxic chemicals?
image: by Walmart Corporate on Flickr under CC