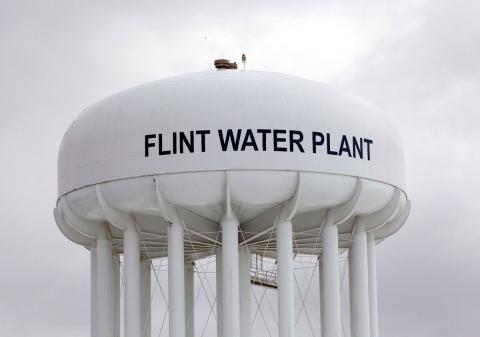 President Obama visits Flint, samples water
President Obama Wednesday visited Flint, Michigan to highlight the federal government's response to the lead poisoning scandal and to renew calls for Congress to pass emergency assistance for the beleaguered city of 100,000.
The presidential visit comes one day after the Coalition on Human Needs and allies hosted Child Lead Poisoning: Preventable Harm, a webinar that examined  the catastrophe of lead poisoning in the United States and its causes and effects. The webinar was cosponsored by Children's Leadership Council, First Focus, MomsRising, the National Head Start Association and the Partnership for America's Children.
Obama met with state and local officials as well as Flint residents to hear concerns and discuss the federal response to a public-health disaster that has left many residents in the city relying on bottled water for drinking and bathing. The President visited a local food bank, participated in a roundtable discussion and later addressed Flint residents at the city's Northwestern High School.
Obama offered up both good and bad news when he reported on efforts to make Flint's water safe for residents. On the one hand, he said "filtered water is safe and it works…Working with the state and the city, filters are now available for everyone in the city."
Obama actually sampled Flint's water during one of his public appearances Wednesday – water that had been filtered. On the other hand, he acknowledged "a lot of suspicion" exists about whether the city's water is safe to drink, even with filters. And he pointed to an EPA analysis that found the water is not safe for children younger than six and pregnant women.
And he said it might take more than two years to completely fix Flint's water system. "It might take a year," he told reporters. "It might take two years. It might take more."
Later, at the city's Northwestern High School, Obama told a community rally that he will not rest until Flint's water is safe for drinking and bathing "because that's part of the basic responsibilities of a government in the United States of America."
"I want to come here to tell you that I've got your back – that we're paying attention…I want all of you to know I am confident that Flint will come back."
For more ways to take action and for more information, visit CHN's new lead poisoning resource page.