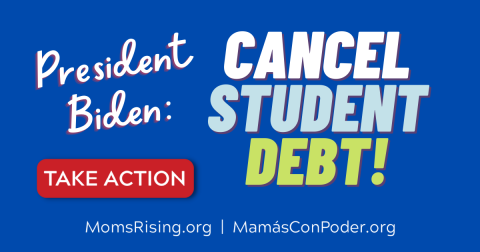 President Biden, it's time for student debt relief!
Advancing our education in hopes of a stable future shouldn't result in decades of financial hardship.
While running for President, Joe Biden promised to cancel student loan debt, and it's time to get the job done.
Urge President Biden to cancel $50k of federal student loan debt for all borrowers!
*When you click, you'll automatically sign on if we already have your information.
Families across the country are struggling to make ends meet amidst rising costs – which are largely driven by corporate greed. President Biden can deliver instant relief in the form of student loan forgiveness!
Tell President Biden to follow through on his promise and cancel student debt with the stroke of a pen!
*When you click, you'll automatically sign on if we already have your information.
Why is this so important? The reality is that women carry nearly two-thirds of all student loan debt and a third of us report that an entire quarter of our monthly income goes toward student debt repayments. Black women are most severely burdened by student debt because of our nation's entrenched racial wealth gaps that are driven by historical and present-day structural oppression.
If President Biden doesn't take executive action to cancel student loan debt, wealth gaps and economic inequality in our communities will only grow larger. Student debt is weighing down multiple generations of Americans, from Gen Z to our most vulnerable elders.
Renee, a MomsRising member in California, shared that "as a senior citizen who is still paying student debt it would be a huge relief to not have this debt hanging over my head. I don't make that much and even income based repayments are hard to make. I hang by a thread. Any emergency will put me under."
Danielle, a MomsRising member in Idaho, shared that "relieving $50,000 in student debt would mean so much for my family of four; we cannot afford things we really need because our student loan payments are so high, even on income based repayment. This forgiveness would positively impact the quality of life for me, my husband, and our two children, ages 8 and 11."
TAKE ACTION FOR STUDENT DEBT RELIEF NOW! When you click, you'll automatically sign on to our letter which reads:
Dear President Biden,
I stand with MomsRising and urge you to cancel $50,000 of federal student loan debt for every borrower through executive action. As the federal student loan payment pause comes to an end on May 1, 2022, we ask that you take action by this date. To truly build back stronger from a pandemic that has disproportionately impacted women, especially women of color, we must address student loan debt. Without action, women will continue to fall behind in recovery.
On average, women with bachelor's degrees take two years longer to pay off loans than men. The gender pay gap exacerbates this debt, too often forcing women to choose between essential needs like rent, groceries, and child care and debt repayment.
Race compounds the impact of this crisis with 86.6% of Black students taking federal loans to pay for a four-year public college degree in comparison to 59.9% of white students. Furthermore, Black women on average owe 22% more in student loans than white women. This means Black women carry the highest student loan debt of any racial or ethnic group.
While student debt has been an ongoing crisis, the COVID-19 pandemic has further exacerbated the issue. In a recent study from the Student Debt Crisis organization, 65% of women borrowers say they do not feel financially secure enough to start making payments until September 2022 or do not know when they will be. Student loan debt is disrupting advancements in gender and racial equity.
Failing to take action on student loan debt cancellation would be detrimental not just to student borrowers, but to our economy as a whole. Borrowers' debilitating student debt will make it impossible for them to own a home, start a family, save up for retirement, or start a new business, all of which are vital to our economy. As president, you have the power to prevent this by canceling student loan debt through executive action.
Roughly, two thirds of all student debt in the United States is carried by women. The student loan debt crisis is a gender issue and we urge you to cancel $50,000 of federal student debt to help women and communities of color move forward.
Don't forget to click here to urge President Biden to cancel $50k of student debt!
*When you click, you'll automatically sign on if we already have your information.
The more of us who raise our voices on this issue, the more noise we'll make and the more powerful we'll be! After you take action, send this link to your friends and family so they can participate too: https://action.momsrising.org/sign/CancelStudentDebt/