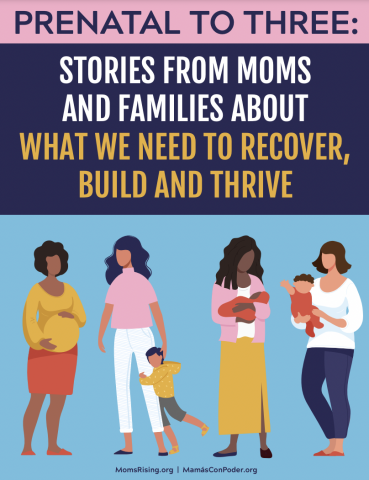 Prenatal to Three: Stories from Moms and Families About What we Need to Recover, Build and Thrive
Click here to access our Prenatal to Three storybook!
Prenatal to age 3 is one of the most critical times for moms, children, and families, yet too often they are overlooked and don't get the support that's needed to truly thrive. 
That is why so many MomsRising families shared their experiences in our new storybook! Families across the nation are sending one clear message:  Let's make sure grownups, babies, toddlers, and our communities thrive by investing in access to child care for all, paid family leave, breastfeeding support, maternal and child health, equal pay, and ensure that immigrants, who are critical to our care infrastructure and families, have a path to citizenship to lift our families from the foundation up. 
So why is it that the prenatal to three period is so crucially important? 
During the first three years of life, the brains and bodies of infants and toddlers make huge gains in development. Babies' brains develop fastest from before birth to age three, and their early experiences—both positive and negative—build the foundation for brain and body architecture that will support their ability to learn, their behavior, and their overall physical health. 
We must prioritize support for families with pregnant mothers and children through age 3, and ensure that children grow into socially, emotionally, and physically healthy kids who are confident, empathetic, and ready for school and life!
Champions, it's time to keep up the drumbeat nationally to support policies impacting the prenatal to three period in a mom's (and family's) life! And sharing stories is a powerful way to do this. 
It's super important that decision-makers hear directly about PN-3 experiences to inform the choices that impact our lives and the lives of our families. This book is meant to be a tool to uplift and spotlight why we need the investments and support to ensure that moms and families thrive during this critical period of their lives. 
Utilize this storybook as a tool to educate friends, your community, and decision-makers and stakeholders. Use it as an advocacy tool to uplift the issues that you care about. Have it be a go-to great resource for facts and information that can be distributed at events, meetings with leaders, social media, and basically anywhere where you want! 
So champions - get your storybooks here! We know even superheroes need folks to have their back, and moms, families, and kiddos are here and ready to use their outside voices to enact big change for our communities.