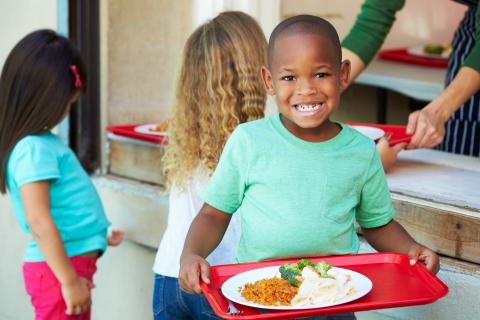 Please Read: School Food is Not Fake News
Something often heard from conspiracy theorists but not taken seriously is the idea that American news was being manipulated. Apparently, it is a tactic once used by intelligence agencies and now with the amount of control the public has over global media, "fake news" has become a commercial business invading the internet and our homes. Like never before, we have to be diligent fact-checkers, reviewers and communicators to protect ourselves from being duped. Unfortunately, the same investigative maneuvers apply to making sure that food is safe and healthful for kids, especially since the real news has reported that the House of Representatives under the new administration may roll back healthier nutrition guidelines in schools.
So much of what we know about food is an urban legend, created from information that is decades old, which, in today's world, does not stand up to science and or personal experience. In this arena, however, I am at an advantage, I work in nutrition. But even I have to study, fact check and call friends, like Amie Hamlin to stay ahead of all the changes.
I was planning to write this article about cafeteria food not having completely nailed down the topic. But as fortune would have it, I found myself in a cafeteria debate with a Dean about insisting that kids take milk, even if they were not interested in drinking it. I tried to explain that there is no requirement that states kids "have to" take a carton of milk. But, he insisted that he was doing his job by repeatedly telling them they did. I surrendered that at some later date I would share an article with him about Offer Versus Serve (OVS), a USDA nutrition standard of which many misread its meaning. As a nutrition educator in a school where many kids are lactose intolerant, this is just one of my every day, frustrating occurrences.
In need of venting, I immediately thought of Amie. Amie is the Executive Director, School Food Expert, and Advocate at the Coalition for Healthy School Food, a non-profit organization creating nutrition programs in the school community. In 2004, Amie wrote a New York State Legislative Resolution asking that schools "offer plant-based entrees as a healthy option, provide nutrition education that includes information on multi-cultural and plant-based eating patterns, promote farm to school programs, and more." It was unanimously passed.
So, when I called Amie to interview her, my milk moment was one of the main topics of our conversation. As we discussed legislation and guidelines "fact or fiction," we surmised that making children drink milk in schools is a rule adults developed somewhere along the lines, along with "clean your plate," neither are necessary and in some cases, downright harmful. However, a continuous requirement of OVS* is that students must take three of five food components, including the ½ cup of fruits or vegetables, and I don't think anyone would argue with that. Dairy, while it must be offered, does not need to be served or consumed. 
According to Amie, (which can be verified on NutritionFacts.org), when all dairy products were eliminated from children's diets (including cow's milk, cheese, yogurt, etc.), 100% of kids studied were cured of chronic childhood constipation resolving "rectal inflammation and anal fissures." Demonstrating why it is critical for all of us involved in the lives of school-aged children to have and convey the accurate nutrition information. Furthermore, it has been proven that there are healthier, less fat, cholesterol-free options over cow's milk with loads of calcium like kale, broccoli, and bok choy. And without the health risks indicated by cow's milk, like colorectal and ovarian cancer.
According to Amie, losing the 2012 regulations which improved school food for the first time in many years is a real danger. Schools once required to offer different categories of vegetables instead of just the starchy vegetables – such as potatoes, corn, and peas may turn back. Even present standards many times don't address other issues like preservatives, artificial colors. preservatives, and High Fructose Corn Syrup. "Just because the food meets the set standard does not mean the food is healthy," says Amie.
What concerns her the most, however, is that even the updated 2012 food standards are still "so influenced by the food industry" leaving a lot to be desired in what makes a healthy plate, with corporate profits continuing to take precedence over children's health.
One recommendation Amie has for parents and advocates alike is to join the School Wellness Committee, here's how: "Ask your school superintendent's office for a copy of the School Wellness Policy and how to get involved with the school wellness committee. Then address, at a minimum, the nutrition standards.
Just like the proper management of the information we consume and its impact, engaged parents, school staff and food service professionals must work together to ensure that food in schools is of the highest quality and provides the most nutritious variety of healthful ingredients. Let's all be diligent in the coming months and years to create a food environment that supports and promotes success, helping our kids be their best in school and for life.
*Offer Versus Serve: Guidance for the National School Lunch Program and The School Breakfast Program is a USDA Food and Nutrition Service document that outlines for food service professionals required meal "components" and quantities for the purpose of increasing consumption and reducing waste in school cafeterias under the "reimbursable" lunch program.
I am a former board member of the Coalition for Healthy School Food which is where I got my start in nutrition education volunteering in New York City public school cafeterias and classrooms.