Pesticide Progress: 2014 Maryland General Assembly Bill Forges the Path
As you may remember, Smart on Pesticides Maryland has been trying very hard to advocate for pesticide reporting in Maryland and we've made some great progress. Recently, a state legislative workgroup determined that there are data gaps in pesticide use – particularly related to where, when and the amount of specific pesticides being used – and suggested that legislation be enacted to help collect that information.
As a result of the workgroup's diligence, there is now a bill on the table in both the House (HB621) and Senate (SB 700) in the 2014 Maryland General Assembly. HB 621 / SB 700 would generate revenue to collect, analyze and report pesticide use data through a modest $10 increase on the annual registration fee paid by pesticide chemical manufacturers.
In fact, a recent poll found that 78 percent of Maryland voters are concerned about the risk pesticides pose to their family's health. Concern is particularly acute among women, African-Americans, and in Baltimore City and County, rising as high as 92 percent. Additionally, with 79 percent of voters in favor of legislation requiring non-homeowner applicators to report pesticide use, it's apparent that citizens are demanding action!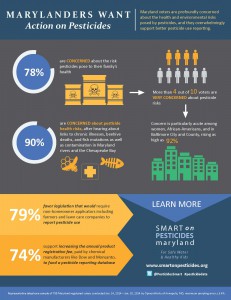 If passed, this bill would be a significant first step towards the creation of a pesticide use reporting database. The revenue would give us the means to comprehensively collect desperately needed information that will help researchers and experts uncover concrete connections between pesticide use and health/environmental impacts.
The legislation went to hearing recently and was well-received.The bill went unopposed in both the Maryland House of Delegates Environmental Matters committee and the Senate Education, Health and Environment Affairs committee hearings. In fact, several scientists, researchers, and public health and environmental advocates came out to testify in support of the bill.
At the House hearing, Dr. Loren Garrettson of the Maryland Chapter of the American Academy of Pediatrics, testified that "Substantial studies show an association between pesticide use and disease. I have absolutely no doubt in my mind that in the not-too-distant future we are going to see continued links between other pesticide use, both domestic and agricultural, and disease in childhood. That day is coming. We are going to have major decisions to make in the near future to protect our children."
Although we are on the path of progress, Dr. Garrettson makes it clear that our work is far from finished. Legislators have heard the bill, but they must continue to hear our voices! You've done a great job so far of advocating, but you can't stop now. If we want to protect our children and families, and the environment they live in, we have to continue to fight. Please continue to share our petition and be sure to stay tuned for coming updates!