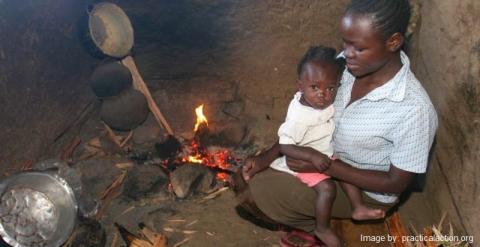 Paring down Paris: What's it mean for families?
OK, so Julie and I didn't actually storm the podium at the international climate change talks in Paris.
But we are elated that a historic decision was reached there which lays the foundation for justice and hope for all of the world's people. The Paris Agreement holds great promise for families in our region as well as families in the developing world. For starters, consider Ama, the baby in this photo, and her mother.  They live in Kenya. As her mom leans over a coal-burning stove, Ama struggles to breathe. Everyday, this tender child and her loving mother inhale toxic smoke equivalent to 90 cigarettes.
Kitchens shouldn't kill.  But in large parts of the world, the essential task of preparing meals can be deadly. Every year, according to the World Health Organization, household air pollution caused by cooking with solid fuels such as wood or coal kills 4 million people.
It is absolutely shocking.
So where's the hope?
Julie and I found a bright ray of hope on, of all places, Vashon Island. There in a laboratory, nestled between a forest and a pasture on this island in Washington State, we discovered a pod of engineers who are absolutely devoted to Ama and her family.
They work for Burn Design Lab. Together with collaborators from the University of Washington and Washington State University, they are listening to women in the developing world and designing the world's cleanest, best cook stoves. 
Their lifesaving innovations exemplify the words of Governor Jay Inslee, "Washington State is at the leading edge of this technological revolution."
What does this have to do with the climate talks that just concluded in France? Ama's mom would dearly love to buy one of these clean stoves, which are now being manufactured in Burn's Nairobi factory. A clean stove would immediately improve Ama's health and her own.  It would also save her precious money on fuel costs.
Because the Paris Agreement will expand the world's carbon markets, it brightens her prospects of buying a clean stove.  In recent years, those markets have enabled 4.1 million families to switch from traditional to clean stoves. That is a reduction of hazardous air pollution equivalent to closing four or five coal plants for a year.
Check out our latest video to meet the inspiring people at Burn and learn more about how carbon markets spur investment in clean energy innovations that save lives and create good jobs here and abroad.