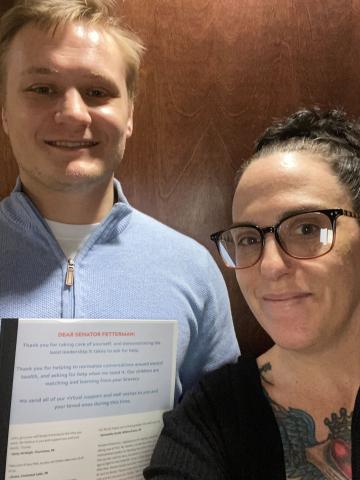 Parents across PA and the country thank Senator Fetterman for bravery around mental health
Here at MomsRising, we're often delivering packets of constituent signatures and stories to our elected officials. It's a great way for parents to voice their opinions and concerns. 
However last week in Pennsylvania, we had a much different kind of petition to deliver, one delivering caring and thoughtful messages during a difficult time for one of Pennsylvania's most well known politicians: Senator John Fetterman. Following our request for messages of support, we heard from close to 5,000 individuals across the country with well wishes for Senator Fetterman as he bravely and openly took the steps toward seeking help and finding support. 
We heard your voices and made sure to get your notes to Senator Fetterman, thanking him for helping to normalize conversations around mental health, and asking for help when we need it. Many of you shared your personal stories and your kind hearted notes, from Pennsylvania all the way to Hawaii! 
A Belle Vernon, PA member echoed our sentiments with her message "Hi Senator Fetterman, just a quick note to say thank you for being strong enough to show that depression and anxiety are illnesses that should not be ignored or to be something to hide. Hoping you are well and back to your supporters soon."
We know the strength of family and caregivers as this Greensburg PA friend sends her best "My love and prayers go out to you and your dear family. Keep up the good work. We all love and support you. Remember you are not alone. We need more good men like you in our country."
A member from Flourtown, PA said "John, give yourself (body/mind/spirit) the time you need. We believe in you and support you and your family. Thanks."  
Another from Chambersburg PA had this to say: "Dear Senator Fetterman, you are an admirable human being and politician. Please continue to do what is best for you and your family and our country. I would vote for you again! THANK YOU!"
As a testament to Senator Fettermans influence, a resident of Langhorne PA said:  "As a registered voter of 50 years I seldom have been inspired by a candidate like I am with you."
From Washington, PA, another member is hoping his experience will help bring about positive change "Thank you for being strong and setting an example for everyone dealing with depression. Depression Hurts. More than people realize. You have the perfect platform
to help spread awareness. Stay Strong, get better, help pass new laws and stop the stigma."
A Pottstown, PA advocate wants him to know she is "Proud to have a Senator who isn't too proud to get care when it's needed." 
A Prescott, Arizona nurse with first hand experience in mental health care says "I believe you are a man of the people. As a Mental Health RN, I am grateful to you for normalizing the mental health needs of folks. Thank you!". 
An ally from Oceanside, California has a simple but powerful message for Senator Fetterman "Thank you for setting a courageous example!!!". 
All the way from Kula, Hawaii "Holding you in the Light of Healing, Strength, and Hope, sir. YOU are such an encouragement to so many of us. Your courageous journey is one step at a time, and we walk beside you in spirit. Much aloha to you".  These are just a few of the influential, supportive and courageous words we delivered to Senator Fetterman. 
While you sent your messages, we put together a 114 page book with all of your well wishes! This book was delivered to the Harrisburg Pennsylvania office of Senator Fetterman.  Constituent Advocate Bryce was thankful, amazed and assured us that this thoughtful and meaningful book of support would get into the hands of our brave Senator when he is back in the office.  We are grateful for the support of the MomsRising community, those who shared and sent notes as well as mental health professionals across the country working hard to destigmatize and normalize asking for help.   
If you need support please find some helpful resources below.  
    •    PA Support & Referral Helpline: 1-855-284-2494 (TTY: 724-631-5600)
    •    National Suicide Prevention Lifeline: 1-800-273-TALK (8255). Online chat function.
    •    Línea Nacional de Prevención del Suicidio: 1-888-628-9454
    •    Crisis Text Line: Text PA to 741741 
    •    Veteran Crisis Line: 1-800-273-TALK (8255). Online chat function.
    •    The Trevor Project Lifeline (LGBTQ): 1-866-488-7386. Or text "Start" to 678-678. Online chat function.
    •    Trans Helpline: 877-565-8860