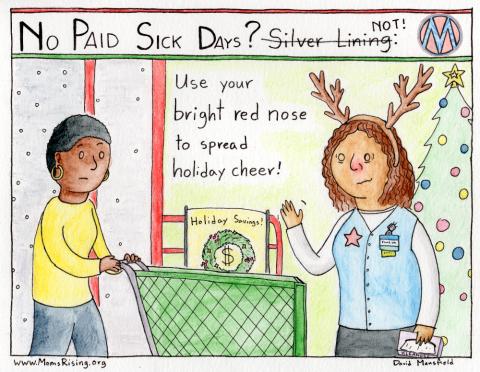 Paid Sick Days: Zero Reindeer Games Left to Play
It's beginning to looks a lot like flu season, but OVER HALF of working moms can't earn a single paid sick day to care for a sick kiddo or recover from their own illness. When germs strike, working parents are forced to make an impossible choice between a paycheck and staying home to nurse a little one back to health. We're done playing reindeer games because just three days of missed work (without paid sick days) is the equivalent of an entire month's grocery budget for the average family. 
In total, at least 43 million American workers (including 80% of low-wage workers) don't have access to any earned sick time. Seriously...yikes. There's nothing merry and bright about that!
Paid sick days are a win-win-win for working families, the economy, and businesses.
Give the gift of paid sick days this holiday season by asking Congress to support the Healthy Families Act! 
This year was MOMentous for paid sick days - with eight new states, cities & counties passing paid sick days laws - bringing the total number of state and local paid sick days victories up to TWENTY SEVEN! But our access to paid sick days shouldn't depend on our zip code.
We need a national paid sick days law. Working moms have zero silver linings left to pull out of thin air. Paid sick days are a must.
Tell Congress: There's no time for reindeer games. Support the Healthy Families Act!
From the MomsRising family to yours, thank you for all that you do and happy holidays!